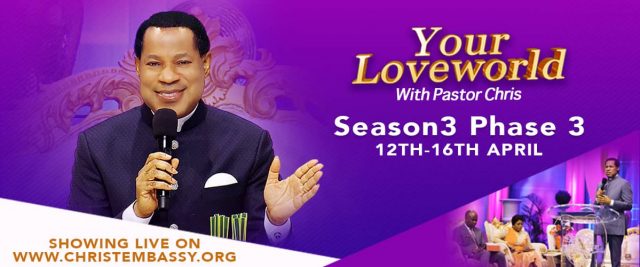 4 DAYS TO GO
Through desire a man, having separated himself, seeketh and intermeddleth with all wisdom. PROVERBS 18:1 KJV It's a special time to fellowship with wisdom and grow in your knowledge of the Truth as you join our Man of God Rev. (Dr) Chris Oyakhilome in 5 extraordinary episodes of Your Loveworld Specials Season 3 Phase 3 from Monday 12th to Friday 16th April 2021 at 7:00 pm GMT +1, 2:00 pm EST daily. Don't miss it.
Remember to spend time in prayer every day against the evil plans of the adversary to divide the world into fully vaccinated tribes and those who are not.
Pray against the deception and manipulation of the nations and their leaders by the antichrist spirits of darkness, and pray that people everywhere will come to the knowledge of the truth, that they might be saved. Amen.
Remember also to 👉 Write your expectations for the program
👉Spend time in prayer for the program
👉Invite everyone you know and get them to attend the program
🌎Participate live on this platform, through our Loveworld Network Stations, Live TV, and Ceflix Apps, and on all Ministry Online Platforms and Apps.
Please follow and like us: