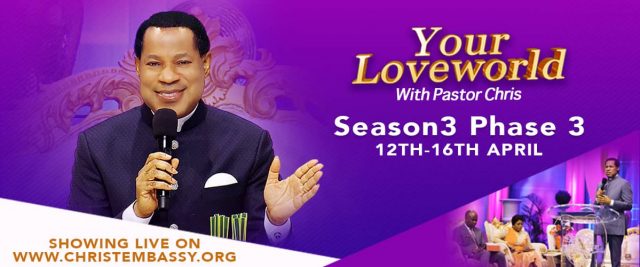 When you stand before the Lord He is not going to ask you "what did your history teacher tell you"; He is going to ask you "what did the Prophets say", "what did the Apostles say"; because the information they gave us was 'God inspired'. Don't miss this next Phase; tell others about it. It will show you the depth of Christianity, what it really means, what the Word has brought to us, what God expects, how to live, and how to win in this world in which we live.
Get set to take a supernatural ride in the spirit and grow exceedingly in your knowledge of God's Word as you join our Dear Man of God Rev (Dr) Chris Oyakhilome for 5 phenomenal days of Your Loveworld Specials Season 3 Phase 3 from Monday 12th to Friday 16th April 2021 at 7:00pm GMT +1, 2:00pm EST daily. Don't miss it.
Remember to spend time in prayer everyday against the evil plans of the adversary to divide the world into fully vaccinated tribes and those who are not.
Pray against the deception and manipulation of the nations and their leaders by the antichrist spirits of darkness, and pray that people everywhere will come to the knowledge of the truth, that they might be saved. Amen.
Remember also to: 👉 Write your expectations for the program
👉Spend time in prayer for the program
👉Invite everyone you know and get them to attend the program
🌎Participate live on this platform, through our Loveworld Network Stations, Live TV, and Ceflix Apps, and on all Ministry Online Platforms and Apps.
Please follow and like us: