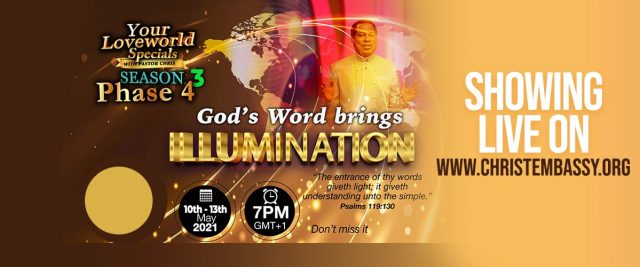 4 DAYS TO GO
…much more surely will those who receive [God's] overflowing grace (unmerited favor) and the free gift of righteousness [putting them into right standing with Himself] reign as kings in life through the one Man Jesus Christ (the Messiah, the Anointed One).
ROMANS 5:17 AMPC It's a special time to grow in the knowledge of the Word, and receive superabundant grace for extraordinary accomplishments in this glorious Year of Preparation; as you join Pastor Chris for Your Loveworld Specials Season 3 Phase 4, from Monday 10th to Thursday 13th May 2021 at 7 pm GMT +1, 2:00 pm EST. Don't miss it.
🌎Participate live on this platform through our Loveworld Network Stations, Live TV, and Ceflix Apps.
Please follow and like us: