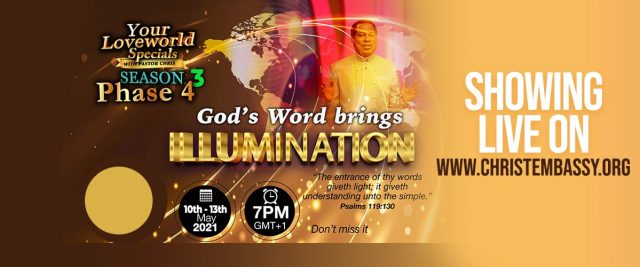 6 DAYS TO GO
2 Kings 6:11 -12 "Therefore the heart of the king of Syria was sore troubled for this thing; and he called his servants, and said unto them, Will ye not show me which of us is for the king of Israel? And one of his servants said, None, my lord, O king: but Elisha, the prophet that is in Israel, telleth the king of Israel the words that thou speakest in thy bedchamber." Have you ever wondered what the world would have been like today without the ministry of our Dear Man of God, Rev (Dr.) Chris Oyakhilome?
The sheer thought of what the adversary had planned is simply unimaginable. They had seen the streets of nations littered with bodies of the dead, they had built concentration camps and mass graves all around the world, they had structured the division of the world into fully vaccinated and unvaccinated tribes; But the Bible says in Lamentations 3:37(AMPC), Who is he who speaks and it comes to pass if the Lord has not authorized and commanded it? And like it was said about the Prophet Elisha in 2 Kings 6:11-12, our Dear Man of God has time and time again revealed to the world the things the devil and his cohorts had planned long before they manifested in the physical. With 3 pulsating seasons, 17 extraordinary phases, and 104 mind-boggling episodes of the historic Your Loveworld Specials, our Dear Man of God has subdued kingdoms, shut the mouths of lions, exposed the lies & deceit of the enemy, dispelled the fear, preserved the lives of billions, and has ushered the Church into a new era of the supernatural.
And now, get set for yet another throne room caucus rendezvous as you join Pastor Chris for Your Loveworld Specials Season 3 Phase 4, from Monday 10th to Thursday 13th May 2021 at 7 pm GMT +1, 2:00 pm EST. Until the rapture of the Church, we keep things in check by the power of the Holy ghost. See you there!
Participate live on www.christembassy.org and through our Loveworld Network Stations, Live TV, and Ceflix Apps, and on all Ministry Online Platforms and Apps.
Please follow and like us: