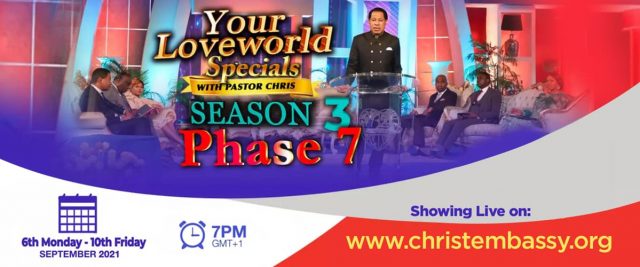 5 days of in-depth insight into reality, to beam live on all LoveWorld Networks and internet platforms.
A fresh wind of upgrade is set to clothe the globe as the epochal 'Your Loveworld Specials' with Pastor Chris (Season III, Phase VII) takes airwaves today, Monday, September 6th and continues daily till Friday, September 10th, 2021. Airing live on this platform, all LoveWorld Networks, and various internet platforms, the 5-day power-packed program would be relayed to a teeming global audience, cutting across all Continents in several languages.
'Your LoveWorld Specials' series has opened a portal of blessings and outstanding testimonies in the lives of many around the world. Amid the ongoing global crisis, it has remained a beacon of light and hope for all who hitherto, were enraptured in fear. The President of LoveWorld Inc., Reverend (Dr.) Chris Oyakhilome, in each episode of this life-changing series, has demystified the complexities around the ongoing global turbulence with accurate facts and truth from scriptures. In the immediate past episode, he debunked all religious claims that anti-vaxxers are sinning against God; labeling it as utter falsehood. With biblical references and parallels, the man of God unraveled the sinister plot of the devil cunningly devised in policies enacted in several nations of the world. He spurred the global audience to take a stand against such plots in fervent prayers. Among several profound topics, Pastor Chris also took time to expound on the rapture and imminent return of the Lord Jesus Christ. Great joy continually gushed out of myriads at the hearing of these teachings by the man of God, Pastor Chris.
Expect the revelation of God's Word in a new dimension and more accurate information on the state of the world and what the Church must do as Pastor Chris ministers in the beckoning Phase VII of Season III due to take airwaves in a few hours. Spread the news and get everyone in your sphere of contact to participate with you.
Please follow and like us: