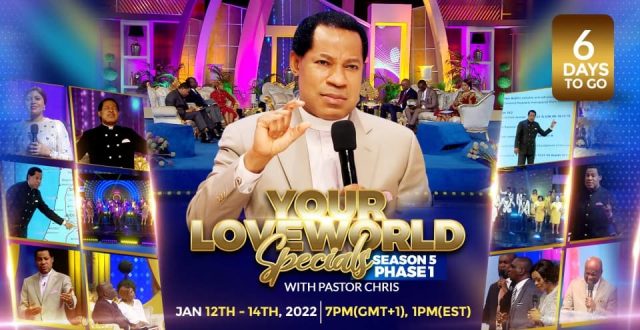 THERE WILL BE A MASSIVE HARVEST OF SOULS, HEALING & MIRACLES: YOUR LOVEWORLD SPECIALS SEASON 5 PHASE 1
6 DAYS TO GO
All over the world angels of God are preparing for the epochal Your Loveworld Specials Season 5 Phase 1 from Wednesday 12th to Friday 14th January 2022 by 7pm GMT +1, 1pm EST, as there will be a massive harvest of souls, healing and miracles globally.
Through this special program, we are reaching and impacting over 7 billion souls for Christ. Participate live on this platform and all Lovewrold Network.
Ensure you are vitally involved in setting up viewing centers and getting many to participate along with you.
Ensure to: 👉 Write your expectations for the Program
👉 Spend time in prayer for the Program
👉 Spread the word and get everyone you know to attend the program
Please follow and like us: