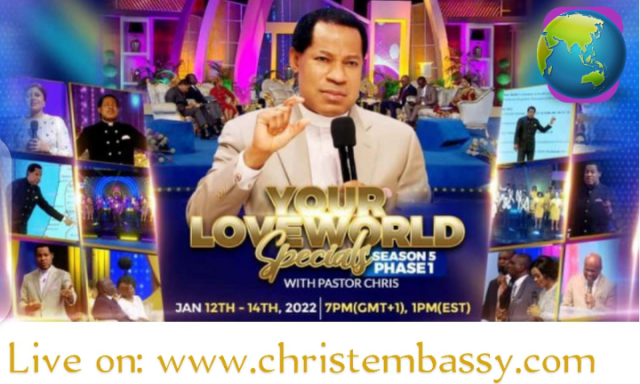 A TIME TO GROW IN THE KNOWLEDGE OF THE WORD: YOUR LOVEWORLD SPECIALS SEASON 5 PHASE 1.
Happening Today
It's a special time to grow exponentially in the knowledge of the WORD as you join billions around the world for the epochal Your Loveworld Specials Season 5 Phase 1 from Wednesday 12th to Friday 14th January 2022 by 7 pm GMT +1, 1 pm EST.
Through this special program, we are reaching and impacting over 7 billion souls for Christ. Ensure you are vitally involved in setting up viewing centers and getting many to participate along with you.
Ensure to: 👉 Write your expectations for the Program
👉 Spend time in prayer for the Program
👉 Spread the word and get everyone you know to attend the program
Please follow and like us: