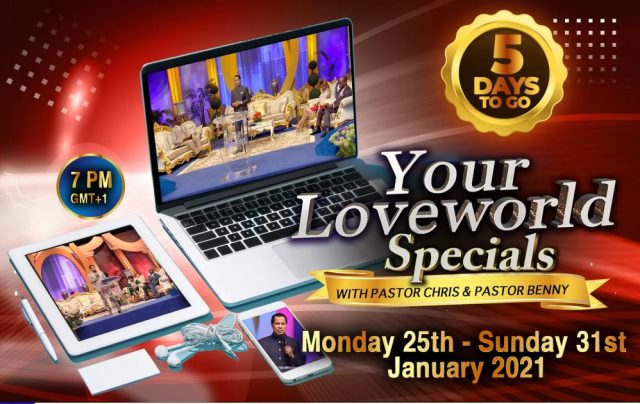 5 DAYS TO GO
Get ready for a life-transforming, preparatory, spirit enlightening, miraculous, mind-boggling, educative and highly inspiring 7 Days in the HolyGhost as you Join Pastor Chris and Pastor Benny Hinn from Monday 25th to Sunday 31st January 2021 for Your Loveworld Specials.
Remember to: Write your expectations for the program
Spend time in prayer for the program
Tell everyone you know, and get them to attend the program. The program schedule is as follows:
Monday 25th, 7.00 pm GMT+1
Tuesday 26th to Friday 29th Two sessions daily – 1.00 am GMT+1 – 7.00 pm GMT+1
Saturday 30th & Sunday 31st – 7.00 pm GMT +1
Participate live on www.christembassy.org through our Loveworld Network Stations, Live TV, and Ceflix Apps, and on all Ministry Online Platforms and Apps.
Please follow and like us: