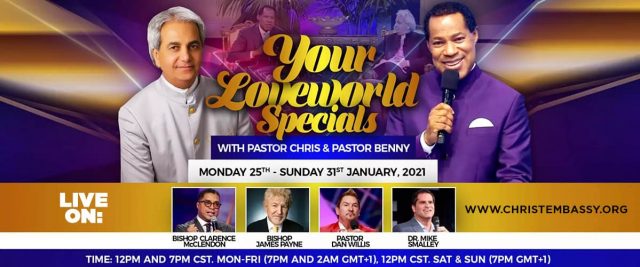 Join Pastor Chris and Pastor Benny Hinn at Your Loveworld Specials from Monday 25th to Sunday 31st January 2021, as they; prepare God's people to meet their God, unveil mysteries and secrets in the deep and intimate knowledge of God, answer hard questions, dissolve doubts, remove the cloak of deceit, brings the light of the glorious Gospel of our Lord Jesus Christ to billions all around the world. Remember to:
Write your expectations for the program
Spend time in prayer for the program
Tell everyone you know, and get them to attend the program.
The program schedule is as follows: Monday 25th, 7.00 pm GMT+1 Tuesday 26th to Friday 29th Two sessions daily – 2.00 am GMT+1 – 7.00 pm GMT+1
Saturday 30th & Sunday 31st – 7.00 pm GMT +1
Participate live on www.christembassy.org through our Loveworld Network Stations, Live TV, and Ceflix Apps, and on all Ministry Online Platforms and Apps.
Please follow and like us: