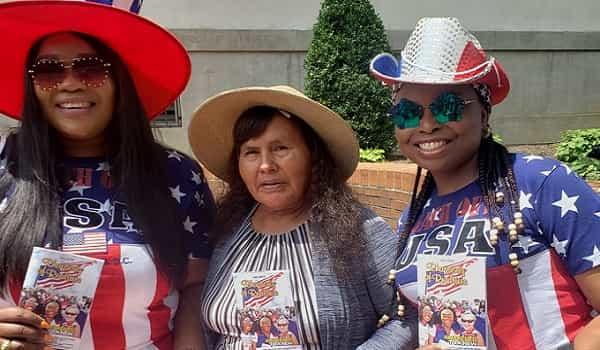 It's Reach Out U.S.A with the Messenger Angel; Rhapsody of Realities.
The 4th of July – the national day for the United States of America is a day characterized by fanfare and celebrations, as the nation takes into account, her independence from the British Colony 242 years ago. This year's Independence Day celebration, was remarkable providing another incredible opportunity to hold the REACH OUT USA CAMPAIGN with RHAPSODY OF REALITIES.
In line with the mandate given by our man of God, Reverend (Dr.) Chris Oyakhilome, Dsc., DD. to make the Rhapsody of Realities the most distributed book in the world, next to the Bible, members of Christ Embassy Bowie, Maryland, USA Region 1, led by esteemed Pastor Beatrice Benson, participated actively in this year's Reach Out Campaign to the Glory of God.
See Also: The Messenger-Angel Triumphs In NYSC Orientation Camp, Kaduna, Nigeria
Habakkuk 2:14 says "the earth will be filled with the knowledge of the glory of God as the waters cover the sea." Armed with this portion of the scripture, members of CE Bowie, marched out on a victory parade to the White House, Washington DC.
The arena was filled with people from all walks of life, who had come to witness the 4th of July festivities. With rejoicing, dancing, singing and rich melodies of God's word in the air, the brethren reached out, and ministered to many souls, teaching them God's word, and impacting their lives through the free distribution of our messenger angel, the Rhapsody of Realities.
There was sincere yearning, and palpable desire for the word made manifest by the receptiveness of the people, and a large number of Rhapsody of Realities distributed.
See Also: Highlights of "Your LoveWorld" Pastor Chris Live; Pray-A-Thon Grand Finale
Many were led to Christ and immediately began sharing their testimonies of salvation with others. Over 1500 copies of the best selling devotional, Rhapsody of Realities, were distributed and the people kept requesting for more.
The success of the outreach stirred joy unspeakable, in the hearts of the brethren, and all present, as the pinnacle of the campaign, was a large prayer circle graced by people of all races, holding hands, praying fervently, and making tremendous power available right in front of the White House. Emotions were high, as many responded with tears in their eyes, while totally yielding to the power of God present, during this time of intense prayer.
Oh, what a memorable day it was, marked with a clear demonstration of the power of the Spirit of God! Truly God's word is prevailing, and covering the United States as the waters cover the sea. Everyone left with a note of victory in their spirit, totally fulfilled and grateful to God for being part of such an impactful outreach.

Please follow and like us: