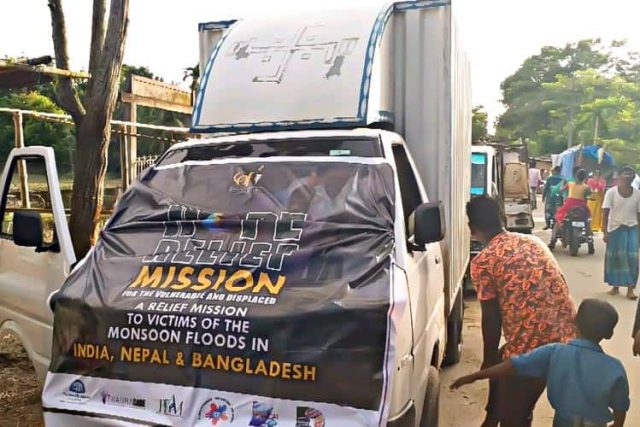 The Chris Oyakhilome Foundation International reached-out with God's love and Humanitarian services to people in the most remote villages and forgotten places of Assam, North-East India…
See Also: Pastor Chris' Healing Message Stirs Miracles In India
In the most remote mission yet embarked by The Chris Oyakhilome Foundation International , a dedicated team of Specialist Medical Personnels and Humanitarian Aid Volunteers travelled over 7 hours of flight, braved high floodwaters, navigated through treacherous road networks to reach thousands of forgotten victims and displaced persons of the monsoon floods in remote villages of Assam, North- East India, bringing a bouquet of much needed medical services, relief supplies and food items, Rhapsody of Realities and Bibles.
Local Politicians and other government agencies expressed heartfelt appreciation to our Man of God and The Chris Oyakhilome Foundation International for reaching out with God's love and Humanitarian services to people in the most remote villages and forgotten places of Assam, North-East India.
See Also: Pastor Chris Takes on the Challenge of the Disenfranchised in South Sudan
 
A quick update of the flood situation: The water is gradually receding in parts of North-East India, however, houses are still submerged, villages inundated with water; access to a number of villages remains a challenge as bridges and culverts collapsed and roads are underwater. Follow our superuser 👉@ICM4C for more updates on MISSION INDIA #EndChildpovertynow #EveryChildisyourchild.
Please follow and like us: