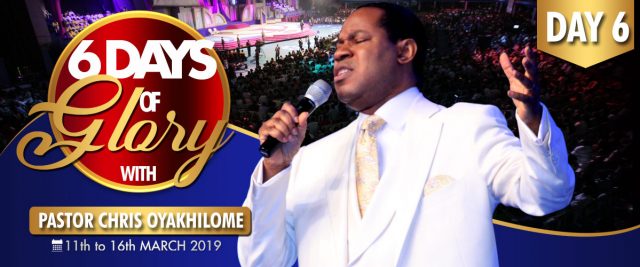 There was an overflowing of blessings at the Day 5 of "6 days of Glory" with our life coach Rev. Chris Oyakhilome, its a new level for everyone who has been a part of this epoch making event. Words are not enough to describe all that the Holy Spirit has deposited in us these past 5days. Oh, Glory to God forever.
Pastor released a huge load of blessings on us yesterday when he shared with us the word of God from Ephesians 2:1-3, the word of God is a spiritual law, it's the truth, it's God's thoughts clothed in vocabulary. Conversations in Ephesians 2:3 refers to a manner of life (ways of doing things).

Ephesians 2:4-13, a Christian is a man who has received the life and nature of the resurrected Christ.
Salvation was paid for everybody in the world. We are seated together with Christ because He's the head of the body and together we are complete in Him. Philippians 3:20 (KJV) Conversation here was wrongly rendered Its Citizenship. We were born citizens of Heaven.

Romans 8:17, the whole universe belongs to Jesus Christ including those which have not been made yet. 1 John 5:10, a man who doesn't believe God has made him be a liar.
There are some people who would have repented but for their fans, they won't… Fans are not family. Don't let your fans deceive you. Galatians 3:13-14, Ephesians 2:10 (AMPC) Ephesians 2:14-22, I'm built as God's habitation through the Holy Spirit.
God lives in me through the Holy Spirit. God lives in me as though He's nowhere else. God lives in me I'm directed by wisdom, God lives in me I cannot fail. God lives in me I cannot make mistakes, God lives in me I produce only excellent results always.
Genesis 1:1, Ephesians 3:8 (AMPC), make up your mind that you would not have a beggarly life. Until you understand this truth you will never live in the fulfillment of God's purpose in your life.

The system of the world was never designed to favor your prosperity, it was designed to work against your prosperity.
ONLY THE GOVERNMENT OF THE BLESSED LORD JESUS CHRIST IS DESIGNED FOR YOUR PROSPERITY.

Ephesians 3:9-19, the wisdom of God will be made manifest to the world through the Church. The Love of Christ surpasses scientific knowledge. Come into that awareness that you are filled with the fullness of God – Have this consciousness. Christ truly is in me, it's not an assumption. Nothing in this world is fashioned to limit me. 1 Corinthians 1:30, Christ has become my wisdom.
I'm no longer supposed to function in my human wisdom. The real wisdom comes from Christ, the wisdom of God comes from the word. When a man goes astray, he's afflicted. When you feel symptoms and you go to the word and spend time to meditate on the word, you'll be amazed at what will happen.

We continually shout for joy to God for blessing us so much and for the gift of the man of God. Now we earnestly look forward to the last session of this glorious meeting. Get a scoop of the last four days here Day 1, Day 2, Day 3, Day 4,
Please follow and like us: