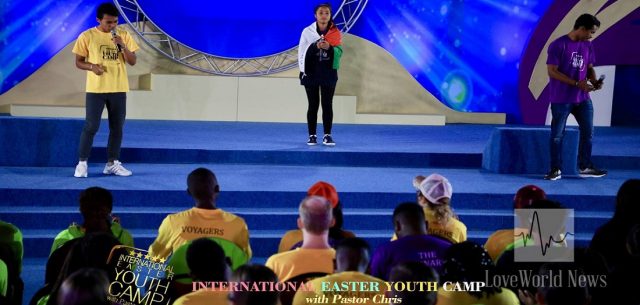 Youths from every continent under Heaven receive an impartation of boldness to win their world for Jesus.
Tuesday, April 23rd, was memorable for youth attending the International Easter Youth Camp with Pastor Chris, a day filled with fresh inspiration to light up the world.
The day began with extracurricular activities leading up to a supersession with the Director of the Campus Ministry, Pastor Chike Ume. Life- changing words were ministered, as he taught them to recognize their opportunities, responsibilities, previous successes, divine strategies, and resources. With 3 important questions, "What needs to be done? Why not now? And why not me?", they were greatly awakened to take the nations for Christ.
In a colorful maiden Easter Youth Camp Exhibition, the delegates had the opportunity to savor the rich handiwork of other young people in the ever-dynamic Global Youth Leaders Forum (GYLF), cutting across all continents. It was indeed a display of unrivaled creativity.
The highly-anticipated evening session with Pastor Chris surpassed the expectations of the expectant youth. Every special presentation brought seasoning to their experience as they expressed their love for the Master and joy in the Holy Ghost.
Delegates from Mauritius, Central Asia, Mexico, and Zambia celebrated their impact in the nations in a super-stirring discussion panel with Pastor Chris. From their personal salvation stories and encounter with the man of God to evangelical outreaches in the face of opposition, variety of educational and community projects and much more, one thing was certain: a new breed is on the scene for the harvest of the earth. Their extraordinary impact reports were indicative of the power of the Spirit at work in them and the fire that's ignited when any youth comes in contact with the GYLF.
Words of ability for global impact came forth as Pastor Chris exhorted them on the ministry of the Spirit in their lives. "You are backed up with power. Have no fear; the Lord has given you a boldness by the Holy Spirit. He has put His word in your mouth. Trust Him with your life,'" he declared.
Please follow and like us: