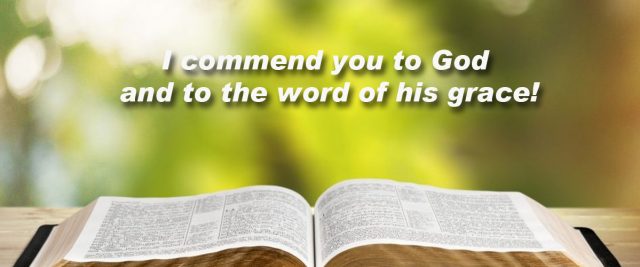 And now, brethren, I commend you to God, and to the word of his grace, which is able to build you up, and to give you an inheritance among all them which are sanctified (Acts 20:32).
Some Christians live very difficult lives and never seem to understand why their experiences don't match up with God's provision for them in the Word. Someone says, "I know why things aren't working out for me; it's because I've not been living right, so God is angry with me"; this conclusion isn't necessarily correct. That you're experiencing challenges or certain hardship in your life doesn't mean God is mad at you for the wrong things you did; rather, it may just be the result of the right things you didn't do. So what you need is "a Word-check"; perhaps you've not been living according to God's Word.
God said "My people are destroyed (they suffer, experience hardships and are crushed) for lack of knowledge… (Hosea 4:6); He didn't say they suffer because of the wrong things they did. So when the circumstances of your life are not consistent with the glorious provisions of the Gospel, the first thing you need is to do a Word check. Review specific areas of your life and be sure that you're doing the Word as far as those areas are concerned.
For instance, if you've been experiencing financial difficulties, and don't seem to know why you keep living from pay-cheque to pay-cheque, do a Word-check to be sure you pay your tithes and give regularly to God. God's Word never fails; Malachi 3:10 says "Bring ye all the tithes into the storehouse, that there may be meat in mine house, and prove me now herewith, saith the Lord of hosts, if I will not open you the windows of heaven, and pour you out a blessing, that there shall not be room enough to receive it."
Thus, if you've been consistent with paying your tithes, then you'll certainly also experience the blessing of God opening the windows of heaven to you, and pouring out for you such a blessing that you won't have enough room to contain. In Luke 6:38, He says "Give, and it shall be given unto you; good measure, pressed down, and shaken together, and running over, shall men give into your bosom." If you've been a consistent giver, then surely you'll also experience men giving into your bosom, good measure, pressed down, shaken together, and running over.
God's Word is the overall life-builder! It can build your spirit, soul, and body and make you a champion in life. So live according to God's Word today by thinking God's thoughts and speaking His words. It will definitely produce in you what it talks about and make you a success
Please follow and like us: