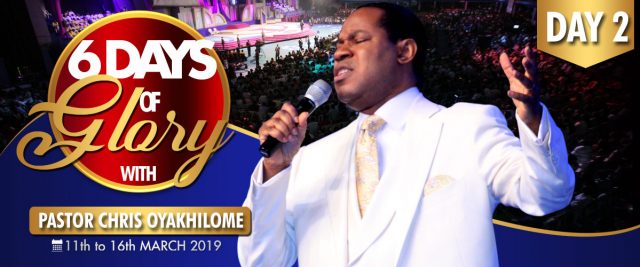 God has been so gracious, always lavishing his love on us through his word. The day 2 of the 6 days of Glory with the prophet of our time Rev Chris Oyakhilome was a higher level of God's liquid love been displayed.
Pastor Chris began with melodious soul lifting songs of worship to God; charging up the atmosphere and then shared the word from 2Timothy 3:1-5, Romans 1:22-27, the wisdom of the word of God is timeless. The standard of your life is the extent of the knowledge of the word you have. Your life is limited to the limits of your knowledge of God's word. Ephesians 1:11 When you walk in Phronesis you'll make the right decision at the right time, for the right purposes. Phronesis is a mindset… If you walk in Phronesis and Sophia, you can never make a mistake.
Sophia is an insight into mysteries while Phronesis is an insight into reality. Sophia gives you understanding, Phronesis gives you a mindset. When you walk in Phronesis you make the right decisions at the right time and for the right reasons.
If you walk in Sophia and phronesis it is impossible for you to be defeated in life; Phronesis locates and positions you right, where you are meant to be according to God's perfect will.
John 6:27, When I received the Holy Ghost I was sealed. It means I'm untouchable the things of this world can not affect you, no matter what is happening in this world it is not supposed to affect you as a child of God.
Matthew 13:44,38 the whole world belongs to Jesus, Satan became a legal occupant through the fall of Adam but Jesus Christ bought the whole world with His blood. Ephesians 1:14(AMP) with wisdom you have insights which let's you see through barriers. The revelation and unveiling, let you see through the barriers.
Photizo means enlightening – the flooding of your heart with light. Say this: Light with understanding is flooding my heart now. Wisdom is insight; Insight is looking into something and seeing through the barrier. Light and awareness of the greatness and power of God towards who believe.
The awareness of our inheritance in Christ, the hope of his calling
the greatness of his power towards us, by the grace of God I am what I am, it is not by power or by might but by God's spirit. Let no one be-little you, the Holy Spirit is the one you need; He is the power of God,
the Holy Spirit is the doer of God's word. When God's word comes to you it's the Holy Spirit that brings it into being.
God is faithful to every generation, Colossians 1:9-10, be fruitful in every good work and while I'm at it I'm increasing in the knowledge of God. We love God because he first loved us, there is hope for us, things are happening in our interest; to our advantage, Ephesians 1:14-23. (AMP).
We are so blessed and we are grateful to God for such an awesome time in his presence, with what day 1 and 2 of the 6 days of Glory has been, we are certain that Day 3 with our Man of God will be glorious.
Please follow and like us: