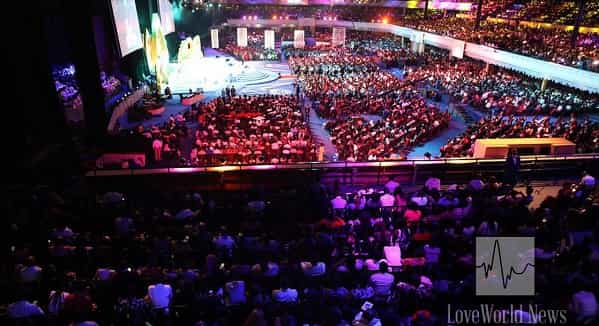 "2020 is the Year of Perfection," Pastor Chris announces to the hearing of millions around the world.
In the course of the Global New Year's Eve Service with Pastor Chris, at exactly a minute past 12 midnight GMT+1, the man of God welcomed the global congregation to the year 2020. Thunderous shouts of jubilation and thanksgiving to God echoed throughout the LoveWorld Convocation Arena in Lagos and in viewing centers across the globe. This joyous celebration was accompanied by a display of fireworks outside the auditorium, even as anticipation for the prophetic word for 2020 grew to a crescendo in every heart.
Upon reading Genesis 6:9 and Genesis 17:1, Pastor Chris communicated with characteristic eloquence the message of the Spirit for the new year, calling it 'the Year of Perfection.' This announcement was met with greater celebration across continents. Giving more insight into the message of the year, Pastor Chris taught that perfection is God's desire for His children, and as such is not only achievable but it is the nature of the Christian.
In addition to the opening scriptures, Pastor Chris highlighted Job 1:1 and 8 among other scriptures, pointing to Noah, Abraham and Job as people from whom the Lord demanded perfection and credited with the same. Pastor Chris also read from Ephesians 5:1 and Luke 8:14, before stating four important things in perfection: alignment; completeness; excellence; and, fruition. "Until you believe in perfection, you will never practice it, but in 2020, you'll love and practice perfection," he said.
Demonstrating God's liquid love, Pastor Chris prayed for every nation of the world and for every sick person, declaring God's divine healing upon them. He also proclaimed blessings on the global congregation, to establish them in God's perfect will for them in 2020. What a remarkable way to begin the new year.
Welcome to 2020, 'the Year of Perfection!' Visit the Pastor Chris Digital Library at www.pcdl.co to download your personal copy of the message of the year. 
Please follow and like us: