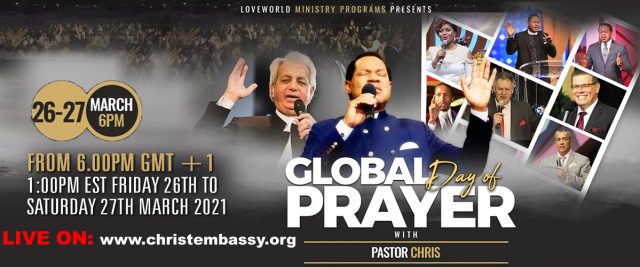 AN AVALANCHE OF PRAYER AND THE MIRACULOUS AT THE PRAYER OUTREACHES FOR THE GLOBAL DAY OF PRAYER
It's been a most extraordinary season of Change as tremendous power is being made available through the various prayer outreaches taking place all over the world ahead of the Global Day of Prayer. Through these phenomenal prayer outreaches, we are taking the Spirit of prayer to our world as we prepare and invite others for the Global Day of Prayer. Hallelujah. Join in effecting global change by organizing at least One PRAYER OUTREACH for the Global Day of Prayer:
👉STEP 1: Organize an onsite or online prayer outreach (3 – 20 non Christ Embassy participants) in your home, office or any location of choice before 12 midnight on Friday 26th and before 10pm on Saturday 27th March 2021. Set the date, time, and location.
👉STEP 2: Get all your participants to follow @PastorChrislive using your zone's unique link, and invite them to participate in the Global Day of Prayer from Friday 26th -Saturday 27th March 2021 with you onsite, or online using your Zone's unique Prayer Room link.
👉STEP 3: Post your pictures/videos of your Prayer Outreach(es) on your Kingschat timeline to inspire others to do the same using the following hashtags: #prayingNow #IAmAPrayerInfluencer #IAmAPriestInOffice #yourcountry
Please follow and like us: