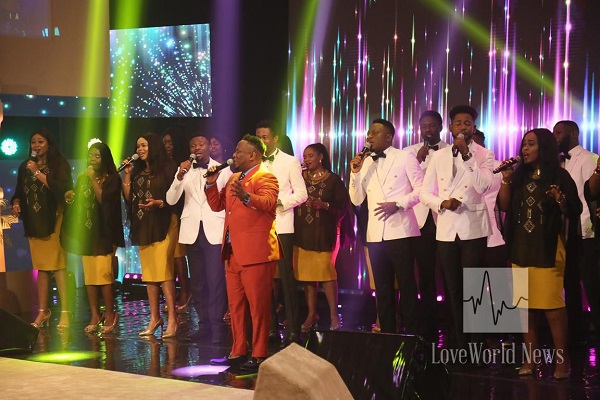 Global congregation expresses unreserved praise and worship to God as the choir leads in soul-stirring songs.
The penultimate Global Communion Service with the man of God, Reverend (Dr.) Chris Oyakhilome, in the Year of Perfection, opened up with heartfelt worship to God as the choir led in songs. The global service, hosted from LoveWorld Studios in Lagos, Nigeria, is transmitted LIVE to a teeming global audience via all LoveWorld TV stations and also streamed LIVE on several internet platforms.
A special report on the global impact of the ministry in the month of October, through various ministry programs organized— the epochal 'Your LoveWorld Specials with Pastor Chris', the special 25-day festival of the Word tagged 'Word Fest 2' and others — was presented by the delectable Yvonne Katsande of LoveWorld SAT. She also reminded the global congregation of the uniqueness of the month of November arousing great excitement and heightened expectations in participants for the International Pastors and Partners Conference (IPPC) to be held this month of November. The annual conference marks the close of the ministry year and the opening of a new one for the LoveWorld nation. A video promo where past chairmen of the IPPC enlightened participants on preparations and expectations for this year's conference slated for November 16th to November 22nd, was featured.
With the singing of the LoveWorld Anthem; a special session of prayers led by the esteemed Pastor Emeka Eze, Zonal Director, Christ Embassy Lagos Zone 2; soul-stirring songs of worship to God led by Eben and the choir, the hearts of participants are ploughed up, ready to receive God's Word as Pastor Chris begins to minister. God has so much in store for His people in this special service. Get ready to experience transcendental blessings as you participate from any part of the world.
Please follow and like us: