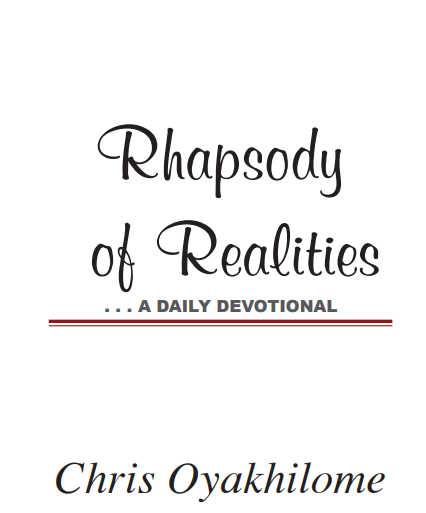 WALK IN WISDOM
But of him are ye in Christ Jesus, who of God is
made unto us wisdom, and righteousness, and sanctification, and redemption (1 Corinthians 1:30).
Some Christians get very excited when they read our opening verse, and then get confused when they read James 1:5 which says, "If any of you lack wisdom, let him ask of God, that giveth to all men liberally, and upbraideth not; and it shall be given him." Since Christ has been made unto us wisdom, why then should one still ask for wisdom? they wonder.

Those two references aren't contradictory at all; rather, it's about levels of maturity in Christ. As you study the Scriptures, you'll find that there're different instructions for different groups of Christians on the basis of their maturity. Some are addressed to the babes in Christ; others, to the maturing in Christ, and then there're instructions for the "fathers" or the spiritually mature in Christ.

The one who's still a babe in Christ may quote and confess and actions that Christ is his wisdom, yet he hasn't really caught it. His words may still be incongruous with the Word and wisdom of God. He isn't yet manifesting wisdom, which is a fruit of righteousness. He still acts and thinks like the rest of the world, like those without wisdom. So, James admonishes those in that class to ask for wisdom.

Remember, it's "children" that ask for things. Jesus said, "…Ask, and it shall be given you"; He related it to children asking their father for bread (Luke 11:9-12). The spiritually mature don't ask for anything, because they lack nothing in Christ. This is the level God wants you to grow into, where you know that all things are yours; you're not asking for wisdom, but walking in wisdom.
Hallelujah!
PRAYER
Dear Father, I thank you for your wisdom that's at work in my spirit, which is also increased even now through the Word that I've received today. I live out the Word, and therefore walk in your glory, fulfilling your perfect will and bringing many to righteousness, in Jesus' Name. Amen.
FURTHER STUDY:
Acts 20:32; Proverbs 4:5-9
1 YEAR BIBLE READING PLAN: Hebrews 2 & Jeremiah 36-37

2 YEAR BIBLE READING PLAN:1 Peter 1:13-25 & Ezekiel 33
Please follow and like us: