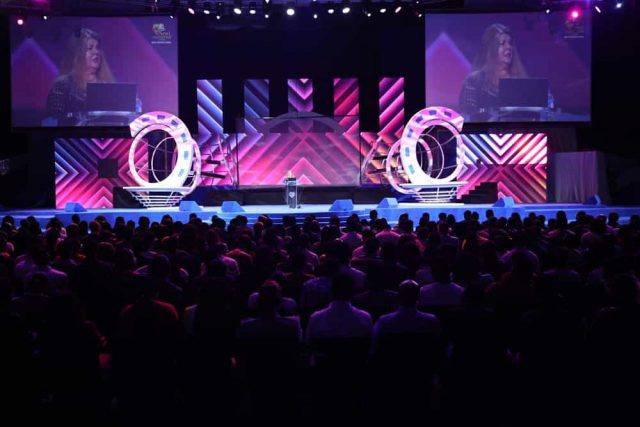 First session of the unique conference witnesses educative and insightful plenary sessions.
The unique ministry of the man of God, Reverend (Dr.) Chris Oyakhilome, makes room for people of all ages, cadre, profession, and status to be well nurtured, and trained with the word of God, enabling them to do exploits in their various fields of endeavor.
The much anticipated LoveWorld Next Conference 2019, with Pastor Chris, holding at the prestigious LoveWorld Convocation Arena, Lagos, Nigeria, commenced today Thursday 1st August, with a superlative morning session.
This unique conference has been specially designed for young entrepreneurs, directors and leaders in all walks of life. 
Special prayer session led by Sis. Praise Amenkhienan.
Delegates who arrived early, were warmly received awaiting the arrival of more delegates from various cities in Nigeria, and other nations of the world. A welcome note address was delivered by LoveWorld Next, Director of  Events and Programs; Sister Tolu Alabi, which set the tone for super impactful sessions to come in this gathering of eagles.
See Also: The World Listens to 'Pastor Chris Generation' Product
The first plenary session, immediately followed; handled by the esteemed Chief Operating Officer (COO) of LoveWorld Inc., who is also the LoveWorld Campus Ministry Director, Pastor Chike Ume. Exhorting the young leaders, he charged them to dream big, and envision their destination from where they current are, writing down their dreams plainly and continually declaring them forth with their mouths. He used his personal story of writing out his dreams while he was still in college, and living in the reality of those dreams today, as an example to inspire the young sharps. He further urged them to take advantage of opportunities, stating that opportunities mostly come in disguise as problems and only those willing to solve problems can recognize them.
In a preceding strategic session, LoveWorld Inc., Chief of Staff (COS), and Director of LoveWorld New Media & Pastor Chris Live Departments, esteemed Pastor Rita Ijomah, challenged the young innovators to harness their potentials, and delve deeply into the world of latest technologies such as Artificial Intelligence (AI), Machine Learning and others, using them to create platforms and products geared towards advancing the course of the gospel via social media. This is in accordance with the LoveWorld Exceptionalism, Perfectionism, and Expansionism agenda. Through the statistics she gave, she opened the eyes of all present, to see the limitless possibilities that abound in these areas.
See Also: Highlights of "Your LoveWorld" Pastor Chris Live; Pray-A-Thon Grand Finale
Participants at this first session, also had the privilege of learning from a US based, nanotechnology scientist; Dr. Anita M. Corrigan ND. She unveiled the potentials of nanotechnology being the future of electronics to the audience.
What an insightful way to begin this prime conference, orchestrated to nurture young innovators and business leaders with God's word, exposing them to hidden secrets of success, as well as equipping them with the necessary tools, and information that will enable them succeed and uniquely impact their world.
Please follow and like us: