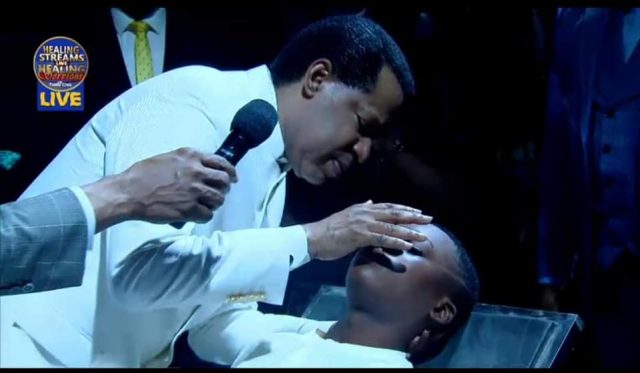 Expressions of joy overflow from countless healing centers as Pastor Chris, ministers healing to the sick. 
The July Healing Streams Live Healing Services with the man of God Pastor Chris continued into a more spectacular Day 2 with an exceptional eclipse of God's miraculous power pouring down on all nations. Ushering in seasons of mercy and grace with demonstrations of the Spirit in healing, miracles, the salvation of souls all-around restoration. The epochal event was broadcast live in over 3000 languages, with over 5.5billion people participating from all around the world. They had a common desire to witness the manifestation of God's power and compassion to heal and deliver.
Commencing with a warm opening address by the Director of the Healing School, Pastor Deola Phillips, day 2 of the 3-day program unfolded in glory, taking participants to greater dimensions of the Spirit. The LoveWorld Singers led the global audience in faith-lifting worship to God in songs, orchestrating a rapturous atmosphere of miracles. Faith was stirred in the hearts of many as senior ministers in the Healing School; Rev. Tom Amenkhienan and Rev. Ray Okocha took turns to read out testimonies from the previous session and to expound on how to receive from God in a special panel discussion. This led to an inspiring session of testimonies anchored by Evang. Dr. Eddy Owase. Many who were healed in past episodes of this life-changing event gave accounts of their ordeal and miraculous healing after being ministered to by Pastor Chris. As did others, young Emmanuel Baloyi shared a touching testimony of how his misaligned eyes got healed after Pastor Chris specially prayed for children in the March edition of this service.
Expectations heightened when the man of God, armed with the power of God, stepped in the arena amid great shouts. In a brief exhortation, Pastor Chris unveiled divine verities about God's purpose for mankind. This stirred faith and imparted life, health, and wholeness to all participants. The power of God was manifested as the man of God began ministering to the sick. Miracles happened everywhere. Cancers checked out, blood conditions were healed, burdens lifted, and all manner of debilitating illnesses became history. God's power surged through bodies, cities, and nations beyond. It was another relishing sight as Pastor Chris ministered one by one to those connected online, with miracles flooding in from all nations of the world. Expressions of joy overflowed from countless healing centers as many testified of their victorious miracles, doing what they could not do before.
Indeed the healing power of God was outstretched to the uttermost parts of the earth on day 2 of the July Healing Streams Live Healing Services with Pastor Chris.
Please follow and like us: