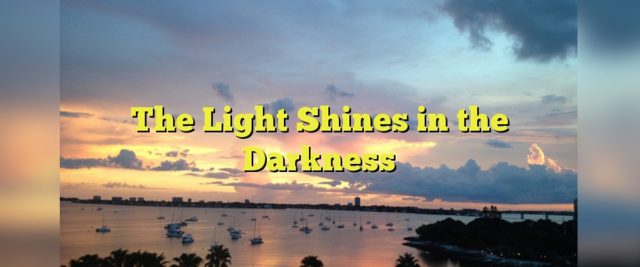 Arise, shine; for thy light is come, and the glory of the Lord is risen upon thee. For, behold, the darkness shall cover the earth, and gross darkness the people: but the Lord shall arise upon thee, and his glory shall be seen upon thee. And the Gentiles shall come to thy light, and kings to the brightness of thy rising (Isaiah 60:1-3).
Have you ever wondered why there're people who are desperately wicked, and treat others with such cruelty? Like what happened several years ago in Sierra Leone, where many had their limbs amputated, including babies. I recall watching a documentary where some of the victims narrated their ordeal. The perpetrators, some of whom were boy-soldiers conscripted to wreak the havoc, had no restraint. They acted with inhuman heartlessness and wickedness.
Such injurious and vicious acts of cruelty don't happen by themselves; they're orchestrated by demoniacal forces over whom we have authority in the Name of Jesus. As a child of God, therefore, you must continually exercise your authority in the Name of Jesus against the demonic powers that lure men into such acts of wickedness, breaking their influence over the people.
In Mark 16:17, Jesus said concerning the believing ones, "And these signs shall follow them that believe; in my name shall they cast out devils…." Then in Matthew 5:14 He said, "Ye are the light of the world…." The dark places of the earth may have been filled with habitations of cruelty, but we can do something about it. So don't be quiet. We're the light in a dark world. You don't have to be physically domiciled in these turbulent regions, but you can effect changes from where you are through authoritative prayers in the Name of Jesus.
You have the power to frustrate the evil one, and insist that the peace of God governs the nations, and rules in men's heart. Pray specially today for those in war-torn regions, especially children, who have been displaced due to these senseless acts of violence. Pray that they'd find comfort and peace in the Lord, and that through the intervention of the Spirit and the activities of angels, many would be guided to receive salvation.
Please follow and like us: