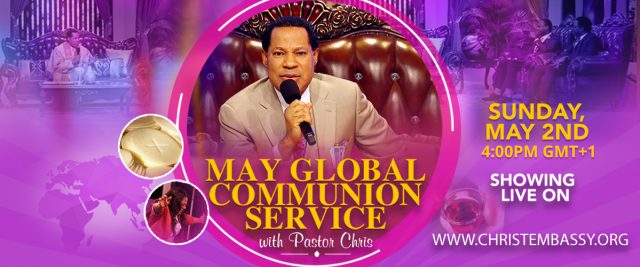 As we fellowship with the Spirit of God and with one another, receive the Word from our Man of God, and take the Communion together at the May Global Service; Questions will be answered, Burdens will be lifted, Chains will be broken, Doubts will be dissolved, Healings and Miracles will take place, and the Light of the glorious Gospel of our Lord Jesus Christ will shine in the hearts of many. Don't miss the May 2021 Global Service with our Man of God Rev (Dr.) Chris Oyakhilome on Sunday 2nd May 2021, at 4:00pm GMT +1, 11:00am EST, it will be an extraordinary time with the Holyghost.
Remember we are Praying and Fasting together with our Man of God from Saturday 1st to Monday 3rd May 2021.
Remember also to: 👉Write your expectations for the Global Service 👉Spend time in prayer for the Global Service
👉Invite everyone you know and get them to attend the Global Service, it'll be streamed live to all the LoveWorld Networks and Web/Mobile platforms.
Participate through your preferred TV, Radio, mobile, or web application/ website/ social media platforms, www.christembassy.org, www.ceflix.org, LiveTV Mobile App.
Please follow and like us: