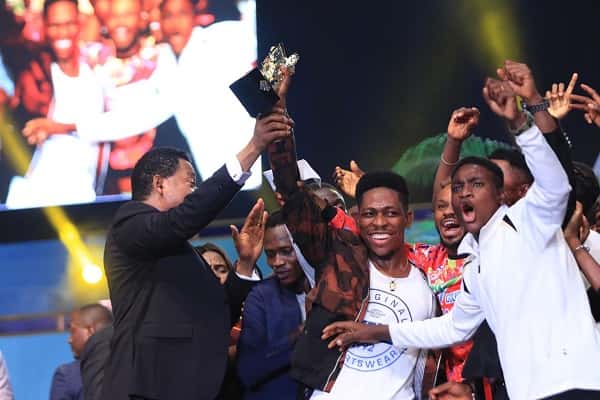 Moses Bliss celebrates a magnificent win as his timely record 'You I live for' wins coveted Song of the Year award.
A ricochet of thunderous shouts echoed through the LoveWorld Crusade Grounds at the announcing of the overall Song of the Year, 'You I Live for' by Moses Bliss. Effusive moments sprang up as the visibly surprised Moses Bliss could not hold back his tears on this superlative win. With an entourage of well-wishers, he walked along the aisle, with heavy feet, to receive his prestigious award from the President of LoveWorld Inc., Reverend (Dr.) Chris Oyakhilome. It was an undeniably historic moment for Moses Bliss who seemingly struggled to comprehend the reality of the moment.
The man of God, Pastor Chris commended him for producing a timely song, so fitting for the year 2020. 'In a year of so many voices, only God made sense, only Him mattered', Pastor Chris articulated, reiterating the lyrics of the song in his final exegesis that night. He called on the awe-struck Moses Bliss, who together with the choir, led in a stirring rendition of the song.
Moses Bliss expressed his profound gratitude to God and to the man of God for grooming him in the way he should go and pledged to remain in God's will for him the rest of his life.
Hearty congratulations to Moses Bliss on this remarkable win.
Please follow and like us: