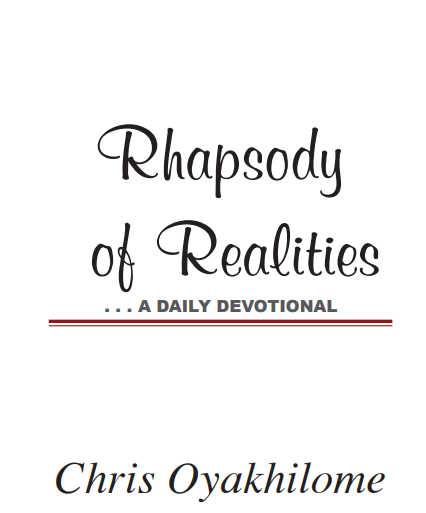 Live Above Needs
But my God shall supply all your need according to his riches in glory by Christ Jesus (Philippians 4:19)
Many are at the infantile level in their walk with God; their prayers are laden with incessant requests for material things: they want a new house, a car, designer watches or clothes, money, etc. The truth is that God's best isn't to give you these things; what He seeks to give you is His Word in your spirit. That's the most important thing in your life.
You might ask, "But didn't God say we should ask for whatever we want?" That portion of scripture says, "Ask, and it shall be given you… For every one that asketh receiveth…" (Matthew 7:7-8). Truly, these are the words of Jesus, but first, as you study the Scriptures, you have to realize this was particularly addressed to the Jewish congregation before the redemption. This wasn't Christ's message to the Church. You have to understand this asking message blesses the baby Christian, and not the spiritually mature.
Paul said, "When I was a child, I spoke, reasoned and acted like a child; but when I became a man, I put away childish things" (1 Corinthians 13:11). "Ask and it shall be given to you" is for children. When you come of age, you understand that all things are yours (1 Corinthians 3:21). As you grow in your knowledge of God, you'll discover that everything you require for life and godliness is yours already (2 Peter 1:3). There's nothing for you to ask God for because your needs have been entered into His supply system!
Read about Jesus; He had no consciousness of need or lack. He never needed to ask the Father for anything. What a place to be, where you have no consciousness of need! In the first chapter of 1 Corinthians, Paul didn't mince words in the ninth verse, when he said, "God is faithful, by whom ye were called unto the fellowship of his Son Jesus Christ our Lord." That means you've been brought into oneness, a partnership, a family union with the monarch of the universe. If this is true, what in the world could you ever be in need of? Everything that belongs to Him belongs to you because you're His heir. Praise God!
PRAYER
Dear Father, I thank you for the joy and benefit of fellowship, which opens my eyes to the truth that you liberally supply my every need according to your riches in glory. I'm focused on your Word, which is my source. Everything that belongs to you belongs to me, because I'm your heir, in Jesus' Name. Amen.
FURTHER STUDY:
1 Corinthians 3:21-22; 2 Corinthians 9:8-11 AMPC; 2 Peter 1:3
1-YEAR BIBLE READING PLAN: Luke 16; 1 Samuel 1-2
2-YEAR BIBLE READING PLAN: Romans 11:25-36; Psalm 119:129-144
Please follow and like us: