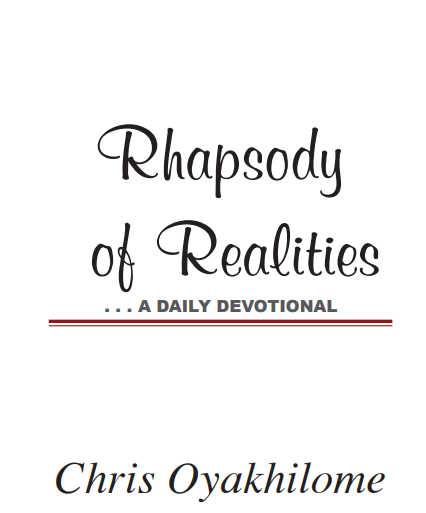 The Word Is Food Indeed
For My flesh is food indeed, and My blood is drink indeed
(John 6:55 NKJV).
There are some who still cry to God to fill them afresh, to satisfy their spiritual thirst or hunger. It's a baseless cry and may yield no results. He knew we were hungry and He sent the Bread from heaven. Today, any Christian who's begging and crying to God to be filled is wasting his or her time.

When Jesus said, "Blessed are they which do hunger and thirst after righteousness: for they shall be filled" (Matthew 5:6), He was only introducing the message that He brought to the Jews; the New
Testament hadn't begun yet. He wasn't talking to the Christian, the new creation.

In John 6:35, He said, "…I am the bread of life: he that cometh to me shall never hunger; and he that believeth on me shall never thirst." That bread is available to anyone who comes to Him. The question then is: have you come to Him? If you're born again, yes! You're in Him through the New Birth; so why are you still hungry? The Bread has come; Jesus is the Bread from heaven (John 6:41).

Also, from our theme verse, we read that His Word is the Bread, because Jesus and His Word are one. John 1:14 says, "And the Word was made flesh, and dwelt among us…." So, if you're experiencing spiritual hunger, what should you do? How do you get filled? "Eat" the Word; get under the ministry of the Word of God. Even now, as the Word of God is coming to you through this devotional, you're being fed; you're being nourished spiritually.

The Bible says, "…Man shall not live by bread alone, but by every word that proceedeth out of the mouth of God" (Matthew 4:4). Rather than sing and cry, "Lord, I'm hungry for you," study the Scriptures, for only the Word of God satisfies your hunger. Now you can understand why the prophet said, "Thy words were found, and I did eat them, and thy word was unto me the joy and rejoicing of mine heart: for I am called by thy name, O LORD God of hosts" (Jeremiah 15:16).
CONFESSION
My hunger has been quenched through the Word of Christ which dwells in me richly in all wisdom and spiritual understanding. My life is upward and forward only; I'm fruitful in every good work as I increase in the knowledge of God, in Jesus' Name. Amen.
FURTHER STUDY:
John 6:35; Acts 20:32; 1 Peter 2:2
1-YEAR BIBLE READING PLAN: Acts 25:1-12 & Psalms 7-10

2-YEAR BIBLE READING PLAN: Galatians 5:1-12 & Isaiah 37
Please follow and like us: