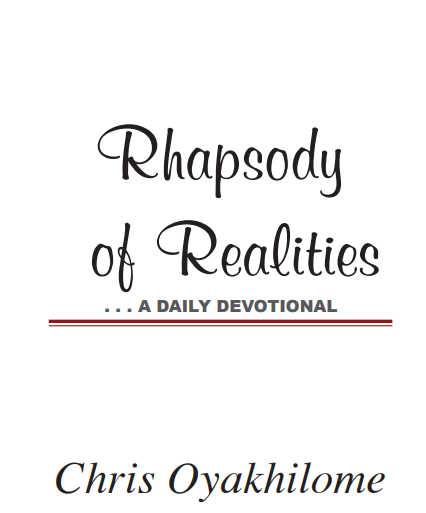 HE PREORDAINED YOUR PATHS
For we are God's [own] handiwork (His workmanship), recreated in Christ Jesus, [born anew] that we may do those good works which God predestined (planned
beforehand) for us [taking paths which He prepared ahead of time], that we
should walk in them [living the good life
which He prearranged and made ready for us to live] (Ephesians 2:10 AMPC).
As a Christian, God prepared your path, the path in life that you should follow. Predestination is at work in you. Take a moment to think about what we read in our opening verse; it's so sublime: we were recreated in Christ Jesus, for good works which God planned beforehand for us, taking paths which He prearranged.

This simply means that your life is set on a course. You're not an accident. There're those who are on a path that's different from the path that God prearranged for them. They live in the wrong house,
in the wrong city, they went to the wrong school, they have the wrong friends. Some are in the wrong job or business; they have the wrong associates and are in the wrong associations in life. They're not aware that God has a special path prepared for them; so, they're toiling and struggling through life.

Everyone has a definite path that he's supposed to follow, and if you don't know, you'd think life is just according to impulses. For example, perhaps after your graduation from the university, you opted to do
a second degree; the question is, why?

Maybe it's because your parents said so; maybe you just liked the idea of acquiring a second degree, or maybe you saw your friends going for it and you decided to get on the bandwagon. But did you ever ask God whether or not that was consistent with His plan and purpose for your life?

Most people never bother to find out God's plan for their lives let alone see to it that they fulfil it. But that's the greatest thing in your life—discovering God's purpose and fulfilling it. Be wise and know that you
need to talk to God about what you should do, the direction you should go, because everything God wants you to achieve in life has been pre-ordained.

If you want the best from God, if you want to live in His perfect will, you've got to walk in the path He prearranged for you, and it's a path of righteousness, great glory, greatness and unending victories. Glory
to God!
CONFESSION

Predestination is at work in me. My life has a purpose with God, for He leads me by His Spirit in the paths that He prearranged for me. Everything I'll ever require to fulfil all that God has called me to do is
available in superabundance. I'm led in the paths of success, victory and unending prosperity, in Jesus' Name. Amen!
FURTHER STUDY:
Romans 8:29-30; Ephesians 1:11

1-YEAR BIBLE READING PLAN: Luke 17:1-19 & 1 Samuel 3-7

2-YEAR BIBLE READING PLAN: Romans 12:1-8 & Psalm 119:145-160

Please follow and like us: