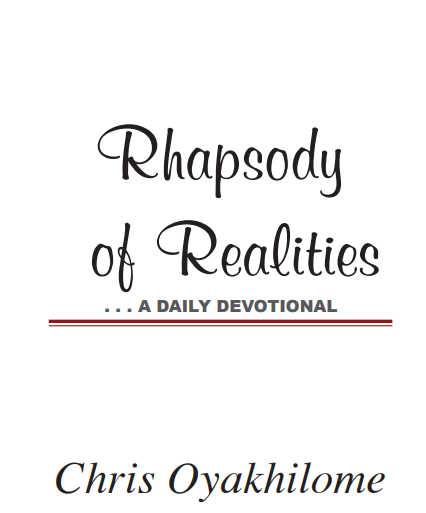 Principles, Relationships, And Actions
For the word of God is quick, and powerful, and sharper than any twoedged sword… (Hebrews 4:12). The human spirit is influenced by three important factors: principles, relationships and actions.
These factors control your plans, your purposes, and your pursuits in life. What you'd be in life would depend on these three, one way or another.
Now, let's examine each of them, starting with principles. A principle is a moral rule, belief or assumption that controls, influences or explains personal conduct or behaviour of a society. It explains how or why something works or happens the way it does.
People can have their own principles, which they created for themselves consciously or unconsciously as individuals. Sometimes, those principles could be from their families or society. For instance, some people don't believe in God, because of certain ideas in their minds, principles they've imbibed that now run their lives. Whether or not they know it, those principles are going to decide their destinies.
The second factor is relationships. There're different kinds of relationships: Biological, geographical, emotional, spiritual, etc. The family you come from, those who live around you—your association with them every day—has an influence on your life. This includes your relationship with your friends, those that make you happy or sad, your relationship with God or the devil, as the case may be. All these, whether or not you knew it before now, have already affected you either positively or negatively.
Lastly, your actions. Not many realize that their actions have consequences. You may do something today and think, "Well, I already did it; it's over with; let's move on." But it's not only about now; it's about the impact that action may have on the rest of your life.
In all of these, employ the wisdom of God. Let the Word of God and the Holy Spirit shape your principles, inspire your relationships, and guide your actions. We read in our opening verse, the power and efficacy of God's Word. It has the capacity to eliminate anything that's inconsistent with God's plan and purpose for your life, whether it's a principle, relationship or action. Glory to God!
CONFESSION
As I meditate on the Word, it mingles with my spirit, producing in me the message that it carries. I'm constantly under the influence and dominion of the Word, and perpetually in the sway of the Holy Spirit. Thus, my spirit is energized for victory and success, in Jesus' Name. Amen.
FURTHER STUDY:
Acts 20:32; 2 Timothy 3:14-17
1 YEAR BIBLE READING PLAN: 1 Timothy 3:1-16 Jeremiah 9-10
2 YEAR BIBLE READING PLAN: John 6:61-71 2 Kings 7-8
Please follow and like us: