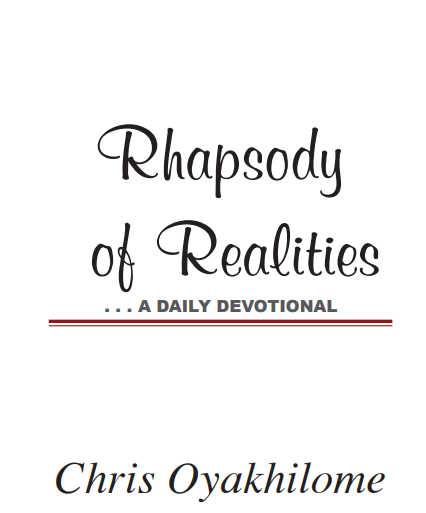 YOU'RE WHAT YOU SAY
For verily I say unto you, That whosoever shall say unto this mountain, Be thou removed, and be thou cast into the sea; and shall not doubt in his heart, but
shall believe that those things which he saith shall come to pass; he shall have whatsoever he saith (Mark 11:23).
Your life is the summation of the words that come out of you. Our opening verse emphasizes the importance of framing your life with
your words. That's the most beautiful natural gift from God to man; the gift of words; the ability to speak and make words.

Life produces for you a harvest of what you say, and here, there's no middle ground. As a Christian, you must keep talking; if you want to live in health, talk health. If you want to walk in righteousness and
always produce works of righteousness, then talk righteousness; every so often, consciously declare, "I'm the righteousness of God in Christ Jesus. I produce works and fruits of righteousness."

You have to say it, to live it. You might say, "What if I haven't been saying anything? What will my life be like?" You'll still have a harvest; unfortunately, it'll be the wrong one. It's like leaving a garden unattended; weeds will definitely grow of their own accord. Keep
yourself in victory, dominion, and prosperity with your words.

God already did all that's necessary for you to have and enjoy life in Christ to the full, through the power of the Holy Spirit. It's your responsibility now to keep things that way and it's mainly by your confession. Always affirm that you have a great life. Declare that
you've been called to glory and virtue; a life of power, and moral excellence. Make these declarations every day.

There isn't anything you don't have (1 Corinthians 3:21; 2 Peter 1:3), and there isn't anything you can't do (Philippians 4:13). Therefore, always declare abundance, supernatural provisions, strength, possibilities, and victories, and your life will go in that direction only.

CONFESSION
The glory of God is revealed in me today; His wisdom is seen and heard in me, as I walk in the Word and produce fruits of righteousness. I'm supernaturally enabled and supplied; nothing missing or broken in
my life! I'm full of strength, because Christ is in me; He's my glory, my righteousness, wisdom, success and prosperity. Blessed be His Name forever.
FURTHER STUDY:
Hebrews 11:3; Matthew 12:36-37 NIV
1-YEAR BIBLE READING PLAN: Mark 5:21-43 & Leviticus 22-23

2-YEAR BIBLE READING PLAN: Matthew 16:21-28 & Exodus 3
Please follow and like us: