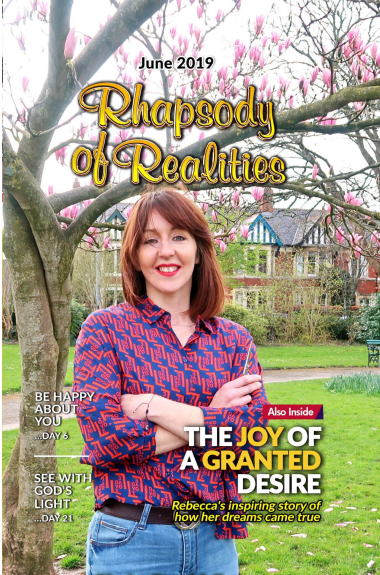 Trust The Holy Spirit
And I will pray the Father, and he shall give you another Comforter, that he may abide with you forever (John 14:16). The Holy Spirit is God's gift to us—the greatest blessing in our lives as Christians.
He's God at work in us. As Christians, we need Him to live victoriously in Christ. That's why the Lord Jesus said, "…I will pray the Father, and he shall give you another Comforter…" (John 14:16).
The Holy Spirit came to help you live the Christian life, because no ordinary person can live the Christian life. It also takes the Holy Spirit to give you the understanding of God's Word, awaken you to the fatherhood of God, and, amongst other things, help you accept the truth that Jesus Christ is the Son of God; God in flesh.
When Jesus asked His disciples, "Whom do men say that I the son of man am?" (Matthew 16:13), Peter, by the revelation of the Holy Spirit, spoke correctly. He said, "Thou art the Christ, the Son of the living God." The Master's response to Peter was, "…Blessed art thou, Simon Barjona: for flesh and blood hath not revealed it unto thee, but my Father which is in heaven" (Matthew 16:17).
Peter wasn't guessing; the knowledge of who Jesus is was imparted to him by the Holy Spirit. Jesus said in John 16:13, "Howbeit when he, the Spirit of truth, is come, he will guide you into all truth…." Think of the Holy Spirit as the revealer or unveiler of the secrets, mysteries and realities of the Kingdom of God to our spirits. He makes heavenly materiality tangible to our spirits.
Even in preaching and ministering the Gospel to others, He's the One who helps to bring the understanding of the message to those to whom we minister. But for Him, they'd never understand the message of the Gospel that we preach. We talk on the outside, but He confirms the words and grants them understanding on the inside.
Perhaps you're a minister of the Gospel, don't try to build the Church by your own strength; depend on the Holy Spirit. Take advantage of His glorious ministry in your life and you'll never be stressed. He makes the job easy, and sees to it that you're triumphant every day. Trust Him with your life, and He'll manifest Himself in and through you.
PRAYER
I thank you, righteous Father, for the blessing of having the Holy Spirit live in me; He's my all-time helper, teacher, and guide, who continually reveals Christ Jesus to me and through me. I have insight into the mysteries and secrets of the Kingdom, and live triumphantly for your glory, in Jesus' Name. Amen.
FURTHER STUDY:
John 14:16 AMPC; Acts 1:8; 1 Corinthians 2:9-13
1 YEAR BIBLE READING PLAN: John 18:1-27 & 1 Chronicles 11-13
2 YEAR BIBLE READING PLAN: Mark 14:53-65 & Deuteronomy 1
Please follow and like us: