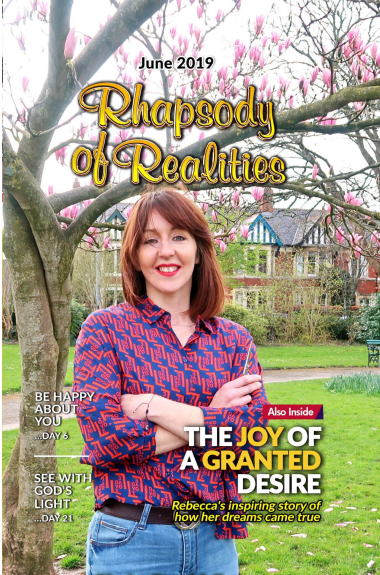 Take Advantage Of His Grace
Neglect not the gift that is in thee, which was given thee by prophecy, with the laying on of the hands of the presbytery (1 Timothy 4:14). In the scripture above, the Apostle Paul gave an important admonition to young Timothy, to take advantage of the grace of God.
He emphasised the same thought in 2 Timothy 2:1, saying, "Thou therefore, my son, be strong in the grace that is in Christ Jesus."
When God gives you a responsibility, He gives you the grace to accomplish the task. To neglect that grace or not to know that you have it could render your work ineffective. For example, if you're called of God to be a pastor, there's the grace for that office; it's the pastoral grace. Once you recognise and acknowledge that you're called into that office and graced for it as well, it'll produce results for the glory of Christ, as you walk in that light.
Some people struggle and experience frustrations in ministry because they're working and walking outside of God's grace. Working with the Lord and for the Lord is a walk in glory when you lean on His grace to pilot you.
If you're a pastor, an evangelist, cell leader or you lead in whatever capacity in the Church, and you've been experiencing difficulties carrying out that ministry, it's time to take advantage of His grace. The gifts of God and the power of God work by the principle of recognition and proclamation (Philemon 1:6). Recognise that His grace is on you to function in that office, and keep proclaiming accordingly. This is also true for everyone who is called of God to fulfil any specific or significant role in the Kingdom.
Even now, activate the grace and power of God in your life. Affirm in faith, "I'm graced to excel and fulfil my destiny in Christ. I'm sufficient in Christ's sufficiency, and His superabundant grace upon my life is sufficient for me in all things. I'm an able minister of the Gospel, because the grace and wisdom of God are at work in me mightily, to carry out the work of the ministry, in the Name of the Lord Jesus". Hallelujah!
PRAYER
Dear heavenly Father, I thank you for your superabundant, overflowing and infinite grace that's at work in me. I thank you for the advantage this supernatural power of promotion and unending success brings to my life. I live an extraordinary life of excellence, victory, and dominion, and reign as a king in this life, in Jesus' Name. Amen.
FURTHER STUDY:
John 1:16-17; Hebrews 4:16; 2 Corinthians 12:9
1 YEAR BIBLE READING PLAN: John 17:1-26 & 1 Chronicles 9-10
2 YEAR BIBLE READING PLAN: Mark 14:43-52 & Numbers 36
Please follow and like us: