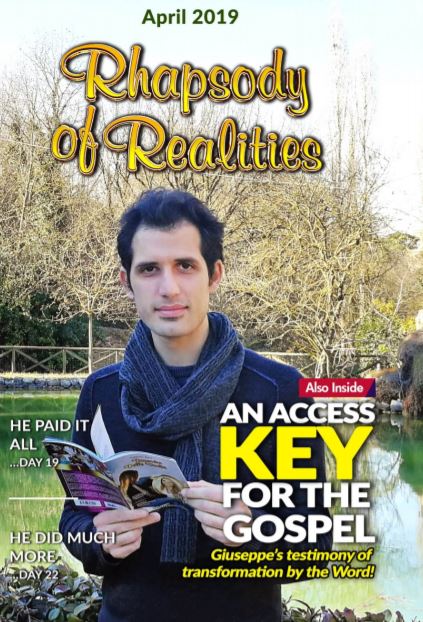 Divine Transportation By The Holy Ghost
So the spirit lifted me up, and took me away, and I went in bitterness, in the heat of my spirit; but the hand of the LORD was strong upon me (Ezekiel 3:14).
Not many in the Church are yet acquainted with the ministry of the Holy Spirit in divine transportation.
Read about John in the Book of Revelation; he was in the isle of Patmos, and suddenly, he was divinely transported to God's presence (Revelation 1:9-11).
Another example is Philip. Acts 8:39 says, "And when they were come up out of the water, the Spirit of the Lord caught away Philip, that the eunuch saw him no more: and he went on his way rejoicing." The Spirit of the Lord carried Philip physically and took him somewhere else (Acts 8:40). Remember, Philip was born again and had the Holy Spirit in him. The Spirit carries out this ministry in us to achieve His purposes in the earth through us.
2 Corinthians 13:14 declares: "The grace of the Lord Jesus Christ, and the love of God, and the communion of the Holy Ghost, be with you all. Amen." The word translated, "communion" is from the Greek "koinonia" and it means, amongst other synonyms, communication, in which is transportation. The Apostle Paul was praying that the Church would actively experience divine Holy Ghost transportation.
As you yield to the sway of the Spirit in your life, there's no telling how mightily He'd use you. Beyond inspiring and blessing you, He can divinely transport you in the spirit to accomplish divine tasks in distant lands. Right in your closet, as you pray by the Holy Ghost, you can touch lives and change things thousands of miles away Hallelujah!
PRAYER
Dear Father, what a privilege and blessing it is to enjoy deep, heartfelt, passionate, and intense fellowship with you through the Holy Ghost! Through this fellowship, I'm divinely transported to higher realms of influence, glory and blessings. Thus, I touch lives, transform nations and impact the world with the Gospel, in Jesus' Name. Amen.
FURTHER STUDY:
Hebrews 11:5; Acts 8:39-40; Genesis 5:24
1 YEAR BIBLE READING PLAN: Luke 11:37-54 & Judges 5-6
2 YEAR BIBLE READING PLAN: Matthew 28:1-10 & Leviticus 8
Please follow and like us: