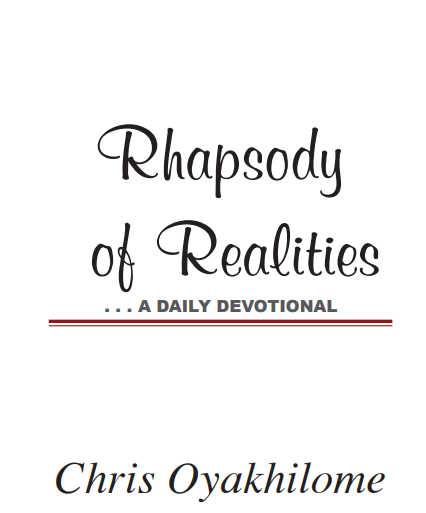 Sanctified Conveyor Of Blessings
And I will make of thee a great nation, and I will bless thee, and make thy name great, and thou shalt be a blessing (Genesis 12:2).
As a Christian, you must have the consciousness of a blessed person. Affirm always that you're blessed and highly favoured everywhere, at all times and in every situation. When you have this consciousness, even if you applied for something or went somewhere and were rejected, you'll be unperturbed. That's because you know who you are, and those who rejected you don't. If they knew you, they wouldn't reject you.
Imagine Jesus at the well of Samaria: when He asked the woman for water, she refused. She said, "You're not supposed to be asking me for water because you're a Jew, and I'm Samaritan" ( John 4:9). She rejected Jesus! Why? She didn't know she was addressing the messiah; but, the Master wasn't offended. He simply said to her, "If thou knewest the gift of God, and who it is that saith to thee, Give me to drink; thou wouldest have asked of him, and he would have given thee living water" ( John 4:10).
Jesus knew who He was; so, He wasn't moved by that rejection. A child of God can be rejected if his true nature in Christ is unknown. He too may not even know himself. But when you discover that you're an heir of God, a sanctified conveyor of divine verities, things will change. You'll go everywhere with boldness, and if they turn you down anywhere, it'll mean nothing to you. You'll only say, "If only they knew me!"
God said to Abraham, "I'll bless you and make you a blessing." You're the seed of Abraham; that means because of your presence in any place, such places are blessed. The divine influence comes upon the places you go and the people with whom you interact. There's something that follows you; it's called, "the blessing"; grace! When you walk into a building, salvation comes into that house! Blessings begin to manifest. Blessed be God!
That you were denied a job offer or business contract doesn't make you a loser; far from it! Your work or business is an opportunity for you to bless your world; your door to the world, to express yourself and the perfections that God has put within your system. Hallelujah!
CONFESSION
I'm a divine package of blessings; I dispense eternal verities to my world! I'm fruitful and productive in every good work, producing fruits of righteousness, ministering salvation and positively impacting my world with the perfections of the Spirit. I know who I am! Hallelujah!
FURTHER STUDY:
1 Peter 2:9; Ephesians 1:3; Genesis 12:2-3 AMPC
1-YEAR BIBLE READING PLAN: Mark 14:1-26; Numbers 24-26
2-YEAR BIBLE READING PLAN: Acts 26:1-11; Psalm 67-68
Please follow and like us: