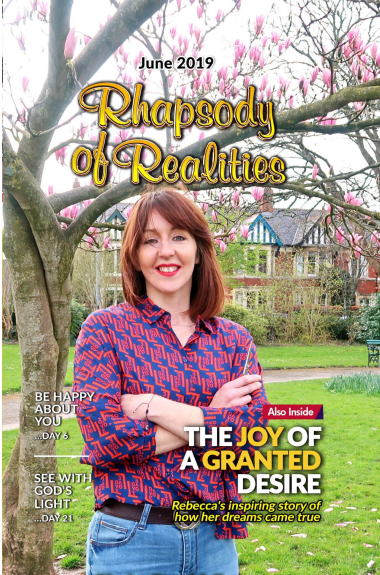 He's Active In And Through You
While Peter yet spake these words, the Holy Ghost fell on all them which heard the word (Acts 10:44). Consider what we just read in Acts 10:44; while Peter was yet speaking,
The Holy Ghost was "working"; He "fell" on them to whom Peter was speaking. He didn't wait for Peter to finish, showing that we're never alone and we can always trust Him to do His part, as we do ours.
In Mark 16:20, after the ascension of the Master, the Bible says the disciples "…went forth, and preached every where, the Lord working with them, and confirming the word with signs following. Amen." Observe that He was with them, not as a passive observer, but was actively working, confirming their words with signs, wonders and miracles.
Each time you go out to preach the Gospel, be conscious of the Lord's presence and His power that's manifested through the preaching of the Word. It makes no difference whether you're on street-evangelism, or you're preaching in a bus, in an office, or in a mall, be assured that the Holy Spirit is working with you and through you.
Therefore, be bold to preach the Gospel. Preach Jesus Christ. Preach that He came into the world to save sinners and make them sons of God. Let the unsaved around you know that God isn't counting their sins against them; rather, He's made provision for the remission of their sins.
The ministry of the Gospel He's committed to your trust is a divine one, which you can only fulfil by the power of the Spirit. It doesn't matter what your efforts are, they're in vain without Him. That means you can't do anything of eternal significance without the help of the Holy Spirit. In John 15:5, Jesus emphasized this, saying, "…for without me ye can do nothing."
Don't go through life or ministry struggling on your own; work with the Spirit. Discuss your work with Him; if there're challenges, talk to Him about them and He'll grant you the wisdom you need to put you over. Trust Him, and there'll be nothing you can't do; His power will work through you in a tremendous way.
PRAYER
Dear Father, I thank you for the fulfilment of the glorious ministry of your Spirit in my life. I'm completely yielded to Him, for He's the One who works actively in and through me, to fulfil your divine plans and purposes in the earth. By the power of the Holy Spirit, I'm effective and fruitful in every good work, bearing fruits of righteousness, in Jesus' Name. Amen.
FURTHER STUDY:
Acts 1:8 AMPC; Philippians 2:13
1 YEAR BIBLE READING PLAN: John 16:17-33 & 1 Chronicles 7-8
2 YEAR BIBLE READING PLAN: Mark 14:32-42 & Numbers 35
Please follow and like us: