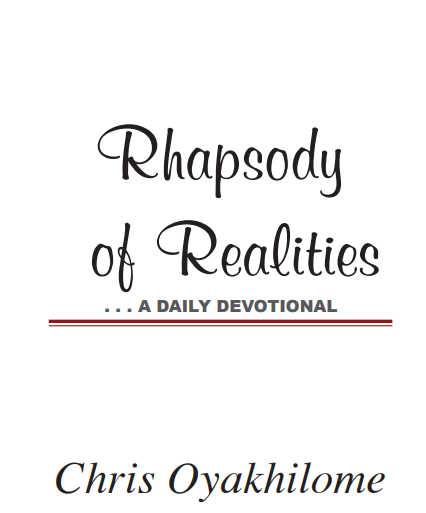 THE HONOUR OF
PREACHING THE GOSPEL
This charge I commit unto thee, son Timothy, according to the prophecies which went before on thee, that thou by them mightest war a good warfare (1 Timothy 1:18).
God has never used the angels to minister or preach the Gospel for the salvation of men. Even if He gets the attention of a sinner through
an angel, He'll get a Christian who has received that salvation to preach the Gospel to that sinner, because He gave the Church the honour of preaching the Gospel (Acts 10:1-6).

He also gave us, His saints, the honour of executing judgment in this earth over the forces of darkness (Psalm 149:5-9). This is so that we'll have no excuse in preaching the Gospel and covering the earth with His righteousness. He gave us the power to use His Name against satanic forces. He said, "… Go ye into all the world, and preach the gospel to
every creature…And these signs shall follow them that believe; In my name shall they cast out devils…" (Mark 16:15-17).

Be excited about preaching the Gospel and let nothing hinder you from it. Irrespective of the threats, persecutions or challenges that you might face, preach the Gospel unafraid. Remember, you're a soldier in
God's army. Soldiers are undaunted about their cause. True soldiers don't retreat, and they don't surrender. They fight to the finish. So, be strong and tough in accomplishing the task of soul winning in these last
days.

Pray. You represent the Heavenly Kingdom of Jesus Christ, and there's a battle for the souls of men. Before you go out on evangelism, spend time in intercession. Prevail in prayer for the souls of men and prophesy their salvation. Prophesy to your city, your nation, and the nations of the world, that they all belong to Jesus Christ and souls are won en-mass into the Kingdom.

Take your role as a praying priest and minister of reconciliation. Remember, this honour have all his saints. Praise ye the LORD.

PRAYER
Dear Father, I pray that the Holy Spirit will raise passionate, committed and fearless labourers for the harvest fields around the world, and that the souls of men are made ready to receive the Gospel gladly, and be converted to the Kingdom, in Jesus' Name. Amen.
FURTHER STUDY:
Romans 10:13-15; Psalm 149:5-9; Romans 1:16
1-YEAR BIBLE READING PLAN: Mark 8:14-26 & Numbers 3-4

2-YEAR BIBLE READING PLAN: Matthew 18:12-20 & Exodus 8
Please follow and like us: