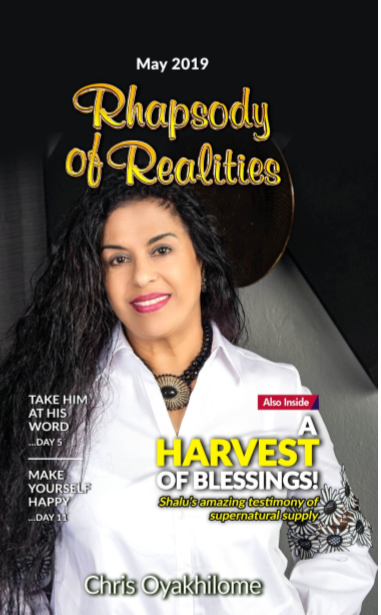 See That All Things Are New
Therefore if any man be in Christ, he is a new creature: old things are passed away; behold, all things are become new (2 Corinthians 5:17).
The word "behold" in our opening verse is very significant because it indicates your first responsibility…
…As a new creature in Christ Jesus: you must see all things as new! If you don't "see" that all things have become new, you'd continue with the old mentality of failure, sickness, poverty, and defeat.
Perhaps you were diagnosed with an incurable ailment before you were born again; that sickness or disease has ceased to be; it has passed away with the old life. The new you—the recreated or born again you—has the life and nature of God which is superior to Satan, sickness, disease, and death. But until and unless the eyes of your spirit are enlightened to see this current reality, you may find yourself still struggling with sickness.
Perhaps you failed in everything prior to giving your heart to the Lord; all that is passed now. Refuse to go on with the same mentality of defeat and failure. Psalm 1:3 describes who you are now that you're born again: "…a tree planted by the rivers of water, that bringeth forth his fruit in his season; his leaf also shall not wither, and whatsoever he doeth shall prosper." You must "see" this as the present truth, the present reality about your life. You're born a success, to be ever fruitful and productive in all that you do. Have this consciousness.
God created you for the good life, and for His glory. Ephesians 2:10 (AMPC) says, "For we are God's handiwork (His workmanship), recreated in Christ Jesus, [born anew] that we may do those good works which God predestined (planned beforehand) for us [taking paths which He prepared ahead of time], that we should walk in them [living the good life which He prearranged and made ready for us to live]." Hallelujah! See that you have a glorious life in Christ, and say, "Never again to the wrong life; never again to the negative life; never again to failure and backwardness!" See only progress and success. Hallelujah!
PRAYER
Dear Father, thank you for the Spirit of wisdom and understanding that's at work in me. I see what you want me to see, and I create what I want to see in my life and environment through the power of your Spirit who lives in me. My life is full of glory, beauty, and excellence. In my path is progress and success only, in Jesus' Name. Amen.
FURTHER STUDY:
2 Corinthians 3:18; 1 Peter 1:23; 2 Corinthians 5:17-18
1 YEAR BIBLE READING PLAN: John 1:19-51 & 2 Samuel 18-19
2 YEAR BIBLE READING PLAN: Mark 7:24-37 & Numbers 7
Please follow and like us: