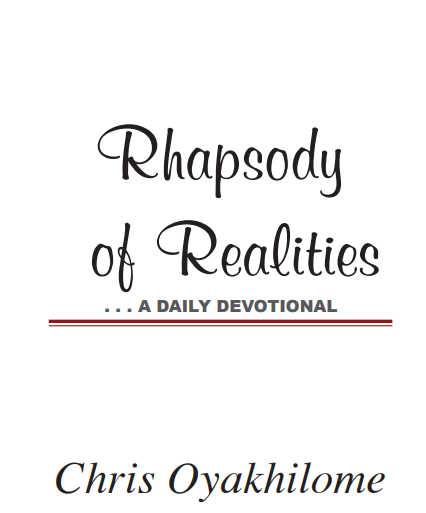 MANIFEST HIS GLORY
But you are a chosen race, a royal priesthood, a dedicated nation, [God's] own purchased, special people, that you may set forth the wonderful deeds and display the virtues and perfections of Him Who called you out of darkness into His marvellous light (1 Peter 2:9 AMPC).
One of the most beautiful revelations in the Word of God is the truth that as new creations, we're the glory of God in a dark and cynical
world. We're the solution to the darkness in the world. The Bible says, "For, behold, the darkness shall cover the earth, and gross darkness the people…" (Isaiah 60:2).

The gross darkness in the world is the indication that it's your time to shine and light up your world. Romans 8:19 says, "For the earnest expectation of the creature waiteth for the manifestation of the sons
of God." The world is waiting for you to manifest the glory of God, to free it from decay and corrupting influences of Satan.

Psalm 74:20 says the dark places of the earth are filled with the habitations of cruelty. That's talking about spiritual darkness and wickedness that's prevalent in today's world. But when you show up, the darkness and cruelty are dispelled. When you come into the
world of the unsaved, bearing the light of the Gospel of Jesus Christ, salvation comes to them. You give meaning, direction, and beauty to your world.
You're the light in a dark world and the salt of the earth. Jesus said, "…as my Father hath sent me, even so send I you" (John 20:21). He sent us to bring glory, excellence, and meaning to the lives of those in our world. This is your ministry. This is your life.
CONFESSION
I'm the manifestation, the out-shining of the glory of God. His splendour, excellence, and perfection are expressed through me. And despite the darkness and hardship in today's world, I'm more than a
conqueror, for Christ in me is the hope of glory! I walk in the glory—in my health, academics, job, business, family, and finances. Praise God!
FURTHER STUDY:
John 17:22; Romans 8:30
1-YEAR BIBLE READING PLAN: Matthew 7:7-29 & Genesis 23-24

2-YEAR BIBLE READING PLAN: Matthew 5:1-10 & Genesis 9
Please follow and like us: