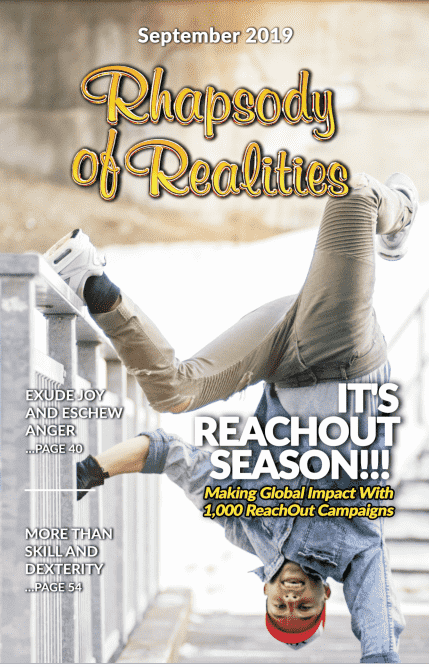 See Through The Word
Therefore if any man be in Christ, he is a new creature: old things are passed away; behold, all things are become new (2 Corinthians 5:17). The scripture above isn't a promise. Now that you're born again, you're a new creature already.
The Word doesn't say you'd become a new creature once your ways or behaviour have become perfect; no! The qualification is being in Christ.
Then, the latter part of the verse says, "…behold, all things are become new." This means, see through the Word! See spiritually. It doesn't matter what your life was like before you gave your heart to Christ; now that you're born again, things have changed!
Notice the underlined word, "behold"; it means to see from God's perspective. Don't look at the physical anymore; see through the Spirit. Maybe you were born with a heart condition; old things are passed away! That blood condition is passed away. That cancer has passed out of your body! Those bad habits are gone. Glory to God!
Even the positive things in your life are replaced with better ones. Have this consciousness. See yourself and your life through the Word. All things in your life, now that you're born again, are of God (2 Corinthians 5:18). That means they're divine; they're perfect. No strange "bodies" in you; nothing of the devil is in you.
Jesus said, "…for the prince of this world cometh, and hath nothing in me" (John 14:30). As He is, so are we. The enemy doesn't have his sickness, disease, infirmities, failure, or weakness in you. You were created perfect in Christ Jesus. This is the Word of God concerning you; see yourself in this light.
PRAYER
Dear heavenly Father, I thank you, for I'm the first and the best of your creations; I'm indestructible and impregnable to the corrupting influences of this world, because greater is He that's in me, than he that's in the world. I'm a new creature; I'm supernatural. My life is a manifestation of the glory and beauty of divinity. I'm alive to God, spirit, soul, and body, in Jesus' Name. Amen.
FURTHER STUDY:
2 Corinthians 3:18 AMPC; James 1:23-25
1-YEAR BIBLE READING PLAN:
Ephesians 3:1-21 & Isaiah 19-22
2-YEAR BIBLE READING PLAN:
John 1:14-23 & 1 Kings 1
Please follow and like us: