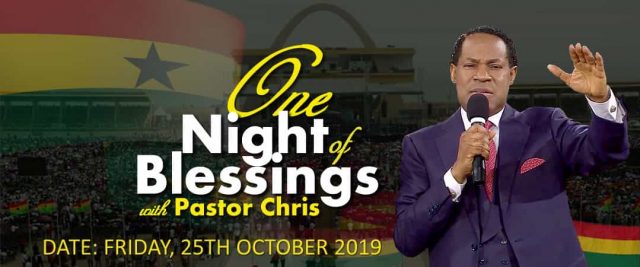 Preparations on top gear at the Black Star Square, Accra, as excitement heightens in anticipation of the epochal event.
The much anticipated 'One Night of Blessings with Pastor Chris,' slated for Friday, October 25th, kicks off in a few hours. In the words of the man of God, Reverend (Dr.) Chris Oyakhilome, the night-long meeting, taking place at the Black Star Square, also known as the Independence Square, Accra, will be one massive night of blessings for all attendees and the nation of Ghana.
Thousands from every region in Ghana, and neighboring West African countries are expected to gather at the Independence Square, Accra and other overflow centers for the destiny altering encounter. The entire country is rife with excitement and great expectations for the release of God's special blessings and the experience of diverse miracles on Friday night. There is no doubt that utter transformation awaits Ghana and her citizens at the program.
It is one night of miracles, healings, deliverance and untold blessings for the people and nation of Ghana, holding at the Black Star Square, Accra, Ghana. Make adequate plans now to attend. Your miracle awaits you. You just can't miss it.
Please follow and like us: