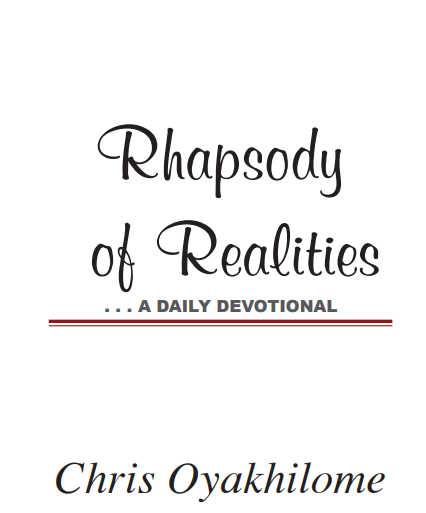 Simple Instructions Of The Spirit
But God chose the foolish things of this world to put the wise to shame. He chose the weak things of this world to put the powerful to shame
(1 Corinthians 1:27 CEV).
God's Word is so simple. His instructions may sound or seem trifling, but when carried out, they always produce the supernatural. Imagine
that while in Church on a service day the Pastor says, "Tell three people, 'I'm blessed and victorious.'" You might say to yourself, "I don't have to do that." Why? It sounds too simple to mean anything. But that's where many have missed it. Our theme verse says God confounds the mighty with simple, little things.

Think about this: when God delivered the children of Israel from the hands of their oppressors, the Egyptians, He didn't lead them on the road that made the most sense. The Bible says, "Instead, he led them in a roundabout way through the desert toward the Red Sea…" (Exodus 13:18 GNB). Then, trapped between the Red sea and an invading army, Moses began to "pray" to God for intervention. But God interrupted him and said, "Lift up your rod and stretch out your hand over the sea and divide it…" (Exodus 14:16 AMPC).

Consider the simple instruction given to Moses for a problem of such magnitude! It didn't make "common sense." How could stretching forth your rod over the sea make any difference at such a critical time? But it did! Moses obeyed the instruction, the sea parted and the children of Israel walked through on dry ground. Hallelujah! God is still that way today. He gives simple instructions.

Also, see the example of the Master: He said to a man with a withered arm, "…Stretch forth thine hand…" (Matthew 12:13). How could the man stretch forth the same hand that was withered? He could have
complained, "Sir, can't you see it's withered?" But he didn't; rather, he acted on that simple instruction and the Bible says the hand "was restored whole, like as the other."

An instruction from the Lord, however simple, is for your benefit. When you're in church for example, a consciousness of the presence of the Holy Spirit is so important. When instructions are given, comply. God
always seeks opportunities to bless and improve our lives from glory to glory and many of such blessings are packaged in simple instructions of the Spirit.
PRAYER
Dear Father, thank you for the counsel I receive from your Word. My heart is attentive to the instructions from your Word and the Holy Spirit. Your guidance puts me over circumstances and challenges of life, to lead me in the path of success, victory, excellence, and glory, in Jesus' Name. Amen.
FURTHER STUDY:
Proverbs 4:13; Proverbs 8:10; 2 Timothy 3:16-17
1-YEAR BIBLE READING PLAN: Acts 20:1-16 & Job 19-21

2-YEAR BIBLE READING PLAN: Galatians 2:3-12 & Isaiah 29
Please follow and like us: