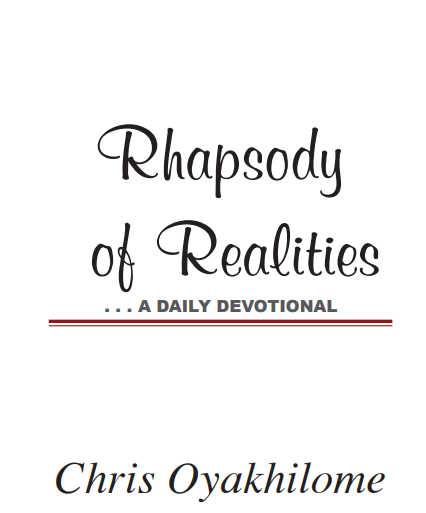 DON'T FRET ABOUT THE FUTURE
For I know the thoughts that I think toward you,
saith the LORD, thoughts of peace, and not of evil, to give you an expected end (Jeremiah 29:11).
The Lord Jesus specified some of the agonizing signs that'll signal the end of the age. He said, "And there shall be signs in the sun, and in the moon, and in the stars; and upon the earth distress of nations, with perplexity… Men's hearts failing them for fear, and for looking after those things which are coming on the earth…" (Luke 21:25-26).

Much of these are already happening and many have become despondent; livelihoods, businesses, and economies have been
decimated. Many aren't sure about their future anymore. But as a
Christian, don't be agitated about the future; be at peace. The
government or society might promise you a great future; don't hope
on their promises.

God's plan is the best; your role is to discover that plan and walk in the light of it. The New International Version of our theme verse says, "For I know the plans I have for you,' declares the LORD, 'plans to prosper you and not to harm you, plans to give you hope and a future." Never allow the troubles in the world get you depressed. Jesus knew you'd encounter crises in this world; so, He said, "These things I have spoken unto you, that in me ye might have peace. In the world ye shall have tribulation: but be of good cheer; I have overcome the world"(John 16:33)

Be of good cheer, irrespective of what's happening around you or to you. Be strong. Be courageous. Don't give in. Maybe it's your business, job, family, whatever it is; the trouble is only for a short time. The Apostle Paul called it "light affliction." He said, "For our light affliction, which is but for a moment, worketh for us a far more exceeding and eternal weight of glory" (2 Corinthians 4:17). As long as you're in Christ, you're in safety; your future is secured. Hallelujah!
CONFESSION
I'm God's handiwork (His workmanship), recreated in Christ Jesus, to fulfill destiny and glorify Him with my life. I'm walking in preordained pathways, set on the course that I must follow, and living the good life which He prearranged and made ready for me to live, in Jesus' Name. Amen.
FURTHER STUDY:

2 Corinthians 4:16-18; John 14:27
1 YEAR BIBLE READING PLAN: Hebrews 3 & Jeremiah 38-40

2 YEAR BIBLE READING PLAN: 1 Peter 2:1-12 & Ezekiel 34
Please follow and like us: