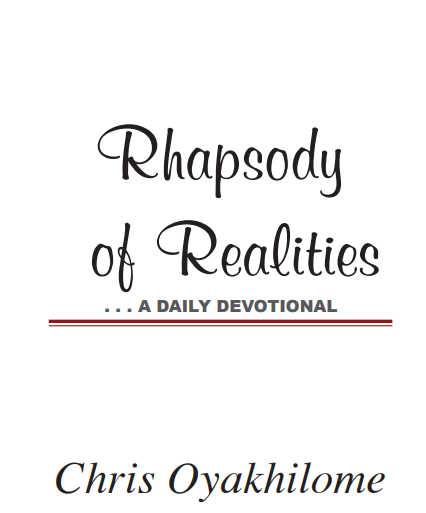 THE WORD IN YOU
Let the word of Christ dwell in you richly in all wisdom… (Colossians 3:16).
Your reaction to challenges and adversities of life will be to the extent of how much of the Word is richly deposited in your spirit. In the day of
the crisis, you can only pull from the reservoir of the Word in you. If the Word isn't dwelling in you richly, your response would be from your head, and out of fear; and that wouldn't work.

Take for instance a situation has arisen in your health; if you've programmed yourself through the years with the Word, you'd be unperturbed, regardless of the bad prognosis. This is because you have the knowledge that you're an associate of the God-kind, an offspring of God, with the divine nature. Hallelujah!

The Word of God that you've imbibed—that has gained the ascendancy in your spirit—is what puts you over in the day of trouble. That's why you must meditate on the Word consciously, so it's not only in your head, but settled in your heart, permeating every fibre of your being! When the Word is in your heart strong, the necessary result is that you'd speak it forth, for, from the abundance of the heart, the mouth speaks.
With the Word richly in you, if you ever notice any anomaly in any part of your body, instead of reacting in fear, you'd affirm the Word because you have a different, solid, valid, and divine information in your spirit through the Word, keeping you victorious in all circumstances. Hallelujah!
CONFESSION
The Word of God is effective and producing results in me NOW! Christ is alive in me through the Word and the Holy Spirit. Therefore, I'm victorious in all circumstances today. I walk in His glory, heaping
success upon success, in Jesus' Name. Amen.
FURTHER STUDY:
Luke 1:37 AMPC; Colossians 3:16; Joshua 1:8 AMPC
1-YEAR BIBLE READING PLAN: Matthew 5:1-20 & Genesis 12-14

2-YEAR BIBLE READING PLAN: Matthew 3:1-9 & Genesis 5
Please follow and like us: