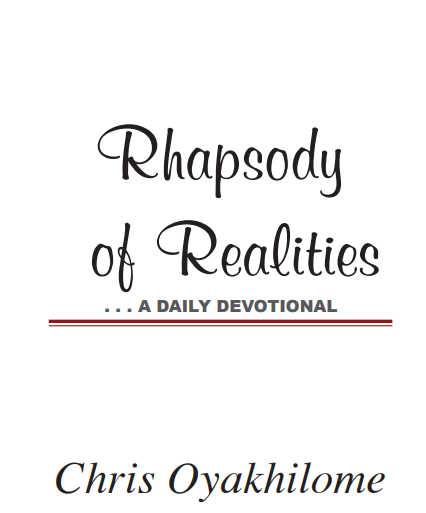 THE HOLY SPIRIT IN YOU
And I will pray the Father, and he shall give you another Comforter, that he
may abide with you for ever; Even the Spirit of truth; whom the world cannot receive, because it seeth him not, neither knoweth him: but ye know him; for he dwelleth with you, and shall be in you (John 14:16-17).
As a little boy, growing up, I was full of fear. But everything changed when I received the Holy Spirit. All the fears in me were disabled and
deleted. He began to teach me the Word of God and I became emboldened.

The Holy Spirit gave me utterance, became my teacher, and began to guide and instruct me. He began to show me what to do, how to understand the Scriptures, how to interpret the Scriptures. My
whole life was transformed. I knew what I was and where I was headed, and how He altered my life and redirected everything.

The same can happen for anybody. The Bible says He's no respecter of persons (Acts 10:34); what He does for one, He'll do for another under the same circumstance. Even if He's never done it for anyone, and you require it, He'll make it happen for you. Maybe today you have low expectations in life; maybe everyone has given up on you! It may be at home, or in school, or at your workplace, or among your peers;
you're the struggling one, and now you're wondering, "How can I ever get better? Is there any hope for me?" Yes, there's hope in Christ.

No need to struggle. If you've received the Holy Spirit, recognize His presence in you. Learn to have fellowship with Him through the Word and prayer. Have faith in His ability to make you a success and cause you to fulfill His destiny for your life. Take advantage of His glorious ministry in your life. Pray in tongues always and follow His guidance, and He'll make you successful in all things.
PRAYER

Oh Lord, you're gracious and kind. You're my rock and my salvation, the One in whom I wholly trust. You make all things beautiful, and you've granted me an extraordinary capacity to contemplate, think,
envision, and see endless possibilities. I bring forth beauty and excellence from within me, through the power of your Spirit that lives in me, in Jesus' Name. Amen.
FURTHER STUDY:
John 14:26; 2 Timothy 1:7; Acts 1:8 AMPC
1-YEAR BIBLE READING PLAN: 1 Corinthians 3 & Psalms 109-112

2-YEAR BIBLE READING PLAN: Luke 17:11-19 & 1 Samuel 3
Please follow and like us: