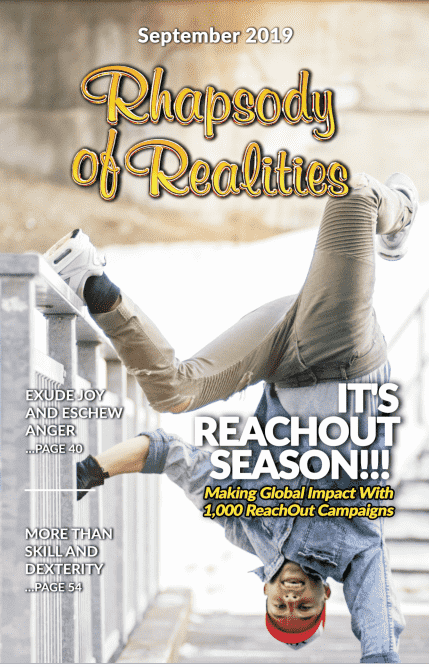 Your Status And Your State
But we all, with open face beholding as in a glass the glory of the Lord, are changed into the same image from glory to glory, even as by the Spirit of the Lord (2 Corinthians 3:18). There's a clear distinction between your status and your state. Your life isn't about what you're going through.
The revelation of God's Word that you have unveils your status, but that may not change your state or situation until you put the Word to work.
The first thing you need to understand is what God says about your status, because if you understand your status, then you can change your state. This means you superimpose the tenets and principles of the Kingdom on your situation for a change. In our Kingdom, for example, it's written that greater is He that's in you than he that's in the world. If you're conscious of this reality and understand your status as the one in whom Christ literally dwells, you'll be unperturbed, irrespective of the adversities you face, because you know you'll always win! The greater One is in you.
The prognosis about your health situation may seem dire, but your status is that you have the very life and nature of God, and divine health is at work in you NOW! This must be clear to you. And once you act on that truth, the health situation will change.
Perhaps it's a situation of lack; there's no money in your account; that doesn't mean you're broke or poor. Take your eyes off the situation; focus on your status. The Word says you're the seed of Abraham; you own the world. You're an heir of God, and a joint-heir with Christ. Hallelujah!
Always remember that the challenges you face, irrespective of how they come, are subject to change. Your role is to act on the Word; keep affirming who you are in Christ. As you keep your focus on the Word, you're metamorphosed, and every unfavourable situation will align with your status as an associate of the God-kind.
CONFESSION
The Sovereign Lord is my refuge and strength, and my ever-present help. He makes my feet like the feet of a deer, and enables me to go on high heights! Whatever comes my way, my victory is assured, because greater is He that's in me than he that's in the world! I know who I am! Hallelujah!
FURTHER STUDY:
2 Corinthians 4:17-18; Romans 4:18-21; Ephesians 2:4-6
1-YEAR BIBLE READING PLAN:
Galatians 3:15-25 & Songs of Solomon 6-8
2-YEAR BIBLE READING PLAN:
Luke 23:26-33 & 2 Samuel 9-10
Please follow and like us: