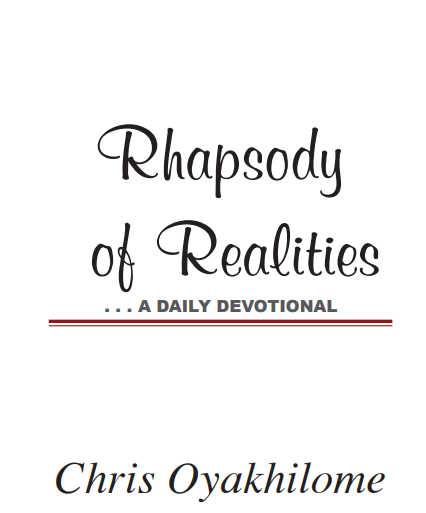 HE NEVER LEAVES YOU
…I am with you always, even to the end of the age. Amen(Matthew 28:20 NKJV).
Sometimes, when people go through difficulties, they wonder if God is with them. They hope and pray that He'll be with them. But the truth is, He never leaves you. Jesus said, "…I am with you always, even to the end of the age. Amen" (Matthew 28:20 NKJV). What a blessing! He's with you through the power and presence of the Holy Spirit. He didn't say, "I'll be with you"; it's not a promise. It's a fact.

God's Word is a statement of truth, and our responsibility is to line up with His truth and live accordingly always. When He said, "…I am with you always, even to the end of the age", it's exactly as powerful as when He said, "…I am the way, the truth, and the life…" (John 14:6). So, think, talk, and live with the consciousness, confidence and assurance that the Lord is in you and with you, for He truly is!

This means you're forever in safety. He's the ever-present help in time of need, the friend that sticks closer than a brother, and He never fails. Trust Him. In Isaiah 41:10, He said, "Fear thou not; for I am with thee…." He's in you and with you everywhere, in every place, and in every situation.

It makes no difference what the situation is; be conscious that you can neither fail nor lose; you're attended by the presence of God. Oh, what confidence you should have in life! No wonder He said, "No weapon that is formed against thee shall prosper…" (Isaiah 54:17). Have the attitude of victory in everything, every day of your life, for the greater One is with you and He lives in you.
CONFESSION

I win always, because the Lord is in me and with me, through
the Holy Spirit. His divine presence mantles me and fills me,
transforming every fibre of my being and every bone of my body. I have the mindset of victory and I reign triumphantly over circumstances, in Jesus' Name. Amen.
FURTHER STUDY:
1 John 4:4; John 14:17; Hebrews 13:5-6 AMPC

1 YEAR BIBLE READING PLAN: Hebrews 4:1-13 & Jeremiah 41-43

2 YEAR BIBLE READING PLAN: 1 Peter 2:13-25 & Ezekiel 35
Please follow and like us: