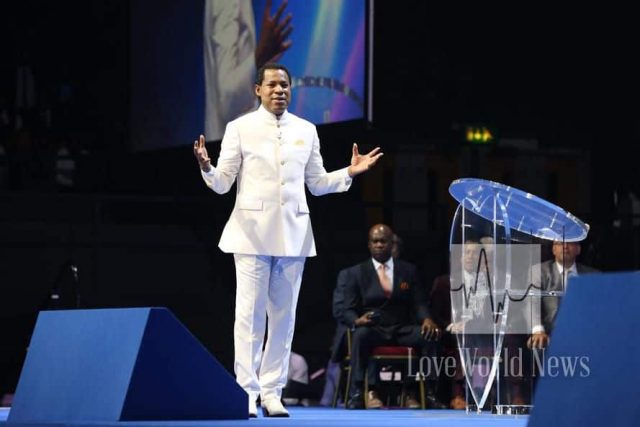 Pastor Chris updates foundational revelation of ministers at WEC 2019, shining light on the Christian's eternal life.
Lavish release of supernatural grace and blessings characterized the Saturday evening session of the World Evangelism Conference with Pastor Chris at the SSE Arena, London.

Heavenly tunes echoed through the arena as several anointed music ministers including Gospel phenom, Sinach, ministered in songs of worship and praise to the Lord. The experience was full of splendor, leaving everyone in awe of God with open hearts to receive the word.
See Also: Dr.Morris Cerullo Prophesies Of Pastor Chris' Significance To The Body Of…
The evening climaxed in a special feast on the word as the man of God, Pastor Chris, unveiled mysteries of the Kingdom reserved only for Kings, concerning the eternal life of the new creation. "The rapture of the church is supposed to be glory, not an escape," he strongly posited, reminding ministers that "the Lord Jesus is coming for a Church without spot, wrinkle, blemish or any such thing."
Every moment of the plenary session fulfilled the expectations set by the man of God ahead of this session that it would result in an update of the revelation of God in the ministers' possession. Reading from 1John 4:4 (KJV) "Ye are of God, little children, and have overcome them: because greater is he that is in you than he that is in the world," Pastor Chris emphasized the victory of the Christian over all opposing circumstances in this world. The congregation was on their feet, celebrating the magnitude of God's love.
See Also: The arrival of God's Generals Seal Portentous Nature of World Evangelism…
With the exposure to these priceless truths, the Church is being thoroughly furnished for effective global evangelism, awaiting the quick return Of the Lord. Watch the video below for more excerpts.
Please follow and like us: