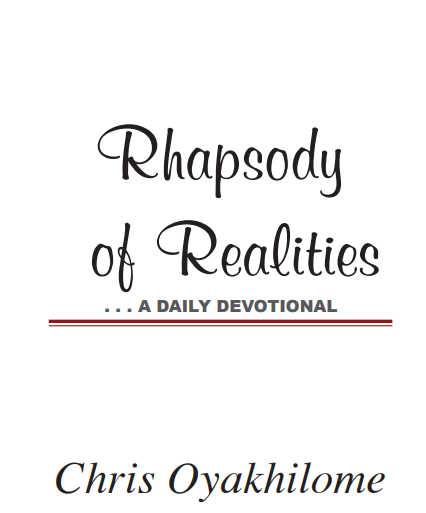 A LIFE OF GLORY AND
RIGHTEOUSNESS
But ye are a chosen generation, a royal
priesthood, an holy nation, a peculiar people; that ye should shew forth the
praises of him who hath called you out of darkness into his marvellous light
(1 Peter 2:9).
When we say Christianity is a call to a life of glory, righteousness, greatness, honour and peace, it's a present-hour reality. It's a literal truth, not a promise we're looking forward to enjoying when we get to
heaven. We have the Christ-life in us NOW! We have His righteousness and His glory. The Bible says, "…As he is, so are we in this world" (1 John 4:17).

Colossians 3:3-4 tells us something super-sublime; it says, "For ye are dead, and your life is hid with Christ in God. When Christ, who is our life, shall appear, then will ye also appear with him in glory." Christ is
your life. There was an exchange; a supplanting of your natural human life by His divine life. The Lord Jesus took your depraved, defeated, destroyed and broken human life away from you. He took the life of sin and shame away from you, and in its place, He gave you a life of glory and righteousness.

Think about it: if Christ is your life, then everything about your life should be absolutely divine. How then could you be said to have an incurable ailment? Satan has tried to deceive many to believe nothing has changed in their lives even though they're now born again.

The darkness, misery, infirmities and pains that were associated with your old human life have all passed away. 2 Corinthians 5:17 says, "Therefore, if any man is in Christ, he is a new creature: old things have passed away; behold, all things have become new."

You're now in a new environment—the environment of His glory and righteousness. That's why your life is full of glory and you produce fruits and works of righteousness. Have and walk in this consciousness. Be full of faith and confidence, knowing that your life is the expression and manifestation of these truths. Hallelujah!
CONFESSION

I'm full of faith and confidence, knowing that my life is the expression and manifestation of the glory and righteousness of Christ. I have the life of Christ at work in my spirit, soul, and body. Glory to God!
FURTHER STUDY:
Colossians 1:26-27; 1 John 4:17; John 17:22

1-YEAR BIBLE READING PLAN: Matthew 21:33-22:1-14 & Exodus 20-21

2-YEAR BIBLE READING PLAN: Matthew 11:11-20 & Genesis 31

Please follow and like us: