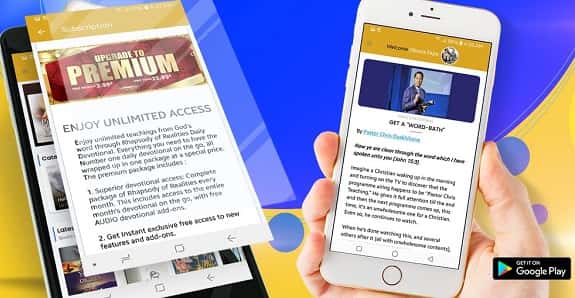 As a child of God, the first thing you should wake up to every morning is God's Word. Psalms 143:8 says, "Let the morning bring me word of your unfailing love, for I have put my trust in you…" (NIV). The Rhapsody of Realities Daily Devotional 3.0 brings God's Word to you on your mobile device, not just every day, but first thing in the morning.
With timely notifications that gently nudge you to start your day early with the Word, the app takes you on a rewarding experience, as you study the day's devotional on a fresh, easy-to use interface. Its new intuitive features track your daily reading habits in order to help you become more consistent in your daily study of the Word.
A More Organized Way To Study
The Rhapsody of Realities Devotional App 3.0 also organizes your favorite articles, scriptures, and books within the app. What's more, you can back up your notes automatically, buy other study materials by Pastor Chris, and sync all your purchases across all your devices with a single account. The Rhapsody of Realities Daily Devotional App 3.0 offers you all these and much more!
So the next time you grab your phone even before getting out bed in the morning, remember to open the Rhapsody of Realities Daily Devotional App 3.0 and start your day on the right note with God's Word.
Please follow and like us: