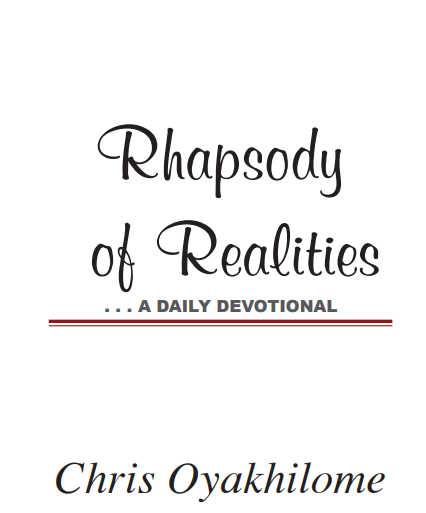 THE BLESSING OF WALKING IN RIGHTEOUSNESS
Fear thou not; for I am with thee: be not dismayed; for I am thy God: I will strengthen thee; yea, I will help thee; yea, I will uphold thee with the right hand of my righteousness (Isaiah 41:10).
The words we just read in our opening scripture are quite inspiring and profound; amazing promises for Israel. While the fulfilment for Israel would be at the millennial reign of Christ, we presently live in, and enjoy those blessings as the Church of Jesus Christ. They're our reality in Christ Jesus, NOW!
We're fearless and walk in dominion because the Lord is our God; He's our strength; we're marvellously helped of Him. We're upheld by the right hand of His righteousness. The right hand of His righteousness refers to Christ. And Christ is our righteousness (1 Corinthians 1:30). Hallelujah!
Then in Isaiah 54:17, He says "No weapon that is formed against thee shall prosper….This is the heritage of the servants of the LORD, and their righteousness is of me, saith the LORD." This is part of the blessings of being His righteousness and walking in righteousness.
There's more. In Isaiah 45:24, the Bible says, "Surely, shall one say, in the LORD have I righteousness and strength: even to him shall men come; and all that are incensed against him shall be ashamed. Think about that! It says all your adversaries shall be ashamed. Anyone who's incensed against you shall be mortified; disgraced. It's the Word of the Lord.
Then in the twelfth verse of Isaiah 41, the Lord says concerning your adversaries, "Thou shalt seek them, and shalt not find them, even them that contended with thee: they that war against thee shall be as nothing…" This is your heritage because you walk in His righteousness!
Then in Isaiah 51:7 He tells us never to be perturbed by the reproach of men. The Word already declared the end of their actions: they'd be abased and brought to shame! Yours is to keep walking in righteousness, bearing fruits of righteousness. The Bible says, "In righteousness shalt thou be established: thou shalt be far from oppression; for thou shalt not fear: and from terror; for it shall not come near thee" (Isaiah 54:14). Glory to God! This is your life. Walk in the light of it.
CONFESSION
I'm established in righteousness; I'm led by the Spirit in the triumphal excursions of life. Christ is my victory and my righteousness. He's the glory of my life; in Him I live and move and have my being. Hallelujah!
FURTHER STUDY
Isaiah 54:14-17 (AMPC), Luke 1:69-71,1 John 4:4
1-YEAR BIBLE READING PLAN: Mark 9:14-32,Numbers 7-8
2-YEAR BIBLE READING PLAN: Matthew 19:1-12, Exodus 10
Please follow and like us: