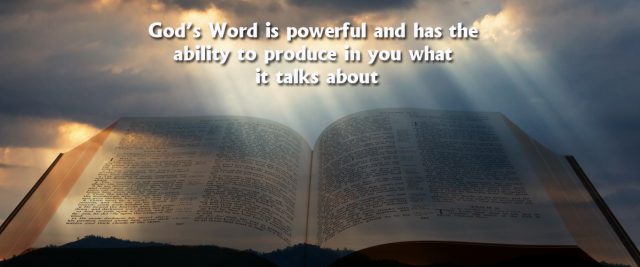 Don't fool yourself into thinking that you are a listener when you are anything but, letting the Word go in one ear and out the other. Act on what you hear! (James 1:22 MSG).
God's Word is powerful – having the ability to produce in you what it talks about. Nonetheless, the fact that it's spoken by God to you doesn't guarantee that you'd see the results. God's Word can only produce what it talks about when you work it out. It's like a seed, and for any seed to germinate, the right environment and conditions necessary for germination must be present. In the same way, God's Word to you won't produce any result except you create the right environment – the environment of faith. You must believe the Word and act on it!
Abraham is an example of someone in the Bible who worked the Word. In Genesis 17:5, the Lord had told him "Neither shall thy name any more be called Abram, but thy name shall be Abraham; for a father of many nations have I made thee." At this time, Abraham and his wife Sarah were already well-advanced in age, Abraham being about a hundred years old, while Sarah was ninety. Besides being barren, Sarah had well gone into menopause, the age where it wasn't even naturally possible for her to conceive anymore. But Abraham worked the Word. The Bible says "…he believed, even God, who quickeneth the dead, and calleth those things which be not as though were." (Romans 4:17).
Abraham created the right environment for what God had told him to come to pass. He believed and gave glory to God, calling himself what God had called him – father of many! He worked out his salvation as admonished in Philippians 2:12: "…work out your own salvation with fear and trembling." You work out your salvation by putting to work in your own life what God has said concerning you. When you personalize God's Word; when you apprehend it and appropriate it for yourself, it becomes a reality in your life! And like Abraham, you'd get the desired results.
That transformation you desire in your finances, health and family are dependent on you, not God, The Psalmist says "Forever, O LORD, thy word is settled in heaven" (Psalm 119:89). His Word is settled in heaven, but you must settle it on earth through your faith.
Please follow and like us: